First MSA Cohort in South Africa
Top Headlines
Date:
February 18, 2011
Contact:
dulhunty@andrews.edu
Website:
www.andrews.edu/grad/IDP
Phone:
In the fall of 2010, the Andrews University International Development Program (IDP) began a new cohort group of 38 graduate students in South Africa. Master of Science in Administration (MSA) students working in diverse non-governmental organizations such as ADRA, UNICEF and Save the Children are among those enrolled to study on the campus of Helderberg College. This is the first time the course has been offered in South Africa, allowing professionals from the African continent to study part-time without leaving their jobs.
"The program has a balance of theory and practice with each course having a focus to strengthen project cycle management skills in planning, assessment, implementation and evaluation," explains Dawn Dulhunty, director of the IDP. More importantly, students know that this master's gives them a competitive advantage in the humanitarian assistance job marketplace due to the unique teaching model of evidence-based practice, she says.
The MSA program encourages global humanitarian leadership development through intensive sessions, work-related learning, networking skill development and field-based location. As development practitioners in training, it asks students to address extremely complex societal issues. For example, topics from the 38 different research projects being planned by new students include: "What are the factors impacting premature marriage among Sudanese girls?"; "Exploring cultural and community integration of Congolese refugees around Johannesburg"; "Improved access to HIV/AID Antiretroviral treatment in Zambia"; and "What church leadership dynamics influence the dedication of SDA members in the Pacific Islands?"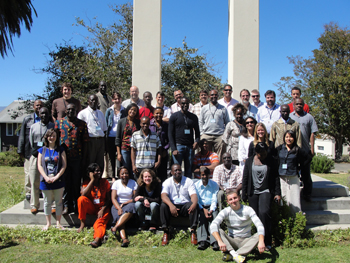 There are 38 students studying in the South Africa cohort.
(Photo contributed)
The program is doing more than meeting students where they are; it's also filling a need in South Africa. Clifford Nhlapo, an IDP student and one of the organizers behind the South Africa cohort, says, "Following the demise of Apartheid and the birth of a new socio-political dispensation in South Africa, it has become urgent that the country adopt a development paradigm which is designed to enable especially the previously disadvantaged communities to develop themselves. The International Development Program is a unique platform which government and civil society can and should utilize in order to make the Reconstruction and Development Program (RDP) a reality."
Students may join the program in any given year and are required to attend four three-week intensives over a three-year period. The MSA is the second largest graduate program at Andrews (the Master of Divinity program has a few more students) and is also offered in Chile, Japan, Italy, Ghana, Kenya and Canada (pending approval).
The International Development Program began in 1996 and offers full-time professionals the opportunity to earn their MSA by taking coursework on a part-time basis. The program is open to all non-governmental organizations, pastors, educators and health professionals. It aims to build staff capacity in humanitarian leadership through field-based graduate education.