Sandi Patty Coming to the Howard Center
Top Headlines
Date:
February 7, 2011
Contact:
hpac@andrews.edu
Website:
www.howard.andrews.edu
Phone: 269-471-3560
No other Christian artist at work today is better suited to sing about life's journey than Sandi Patty. Regarded as "The Voice" of contemporary Christian music, Patty will be in concert at the Howard Performing Arts Center on the campus of Andrews University at 8 p.m. on
Saturday, Feb. 19, 2011
, as part of the Howard Center Presents... for the 2010–2011 season.
Three decades into her career, the Gospel Music Hall of Fame inductee with 39 Dove Awards, five Grammy Awards and an armload of platinum and gold albums is truly a music legend. Her diverse singing experiences include performing ballads, pop songs, hymns and distinctive renditions of traditional gospel music since she sang for the first time upfront at age two. During the past quarter century, she has performed everywhere from the Billy Graham Crusades to the Indianapolis 500, Camp David to Disneyland, presidential inaugurations to the Fiesta Bowl. In addition to solo performances and recording, Patty continues to perform with big city orchestras.
"I am grateful for the many opportunities God has given in my life and for how He has allowed me to spread my wings," says Patty. "Singing is my way to tell my story of hope, life and love."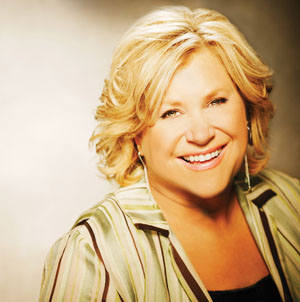 Her dynamic soprano voice and soaring range is on display in her most recent album Songs for the Journey and her chart-topping hits including
Morning Like This
,
I've Just Seen Jesus
and
More than Wonderful
.
Tickets for Sandi Patty can be purchased by calling the Howard Performing Arts Center box office at 269-471-3560 or 888-467-6442. Tickets for reserved seating are $30, faculty and staff tickets are $25 and Andrews University student tickets are $10. Special rates apply for groups and Flex Series tickets. Learn more by visiting
www.howard.andrews.edu
.