2011 Faculty-Staff Awards Presented
Top Headlines
Date:
March 2, 2011
Contact:
pr@andrews.edu
Website:
Phone:
What do card games, the first-ever Siegfried H. Horn Excellence in Research and Creative Scholarship Awards, the tubing hill and Dave Ferguson playing a game show host have in common? Survey says…All were a very memorable part of the 2011 Andrews Family Game Night & Awards Presentation, held on Sunday, Feb. 27, in the Howard Performing Arts Center. Each year at this annual event, awards and recognition are given to faculty and staff members for Years-of-Service, Excellence in Service, Spiritual Life and Daniel Augsburger Awards for Excellence in Teaching. This was the inaugural year for the Siegfried H. Horn Excellence in Research and Creative Scholarship Award.

The evening began at 4:30 p.m. with table and card games, such as Rook and Scrabble, in the lobby of Chan Shun Hall. At 6 p.m., game night-themed snacks, including PBJ sandwiches, mac-and-cheese and corn dogs, were served in the Howard lobby. Then, at 7 p.m., the program began.

The entertaining highlight of the evening was Family Fusion, an Andrews-spin on the popular game show, Family Feud. Dave Ferguson, director of the Undergraduate Leadership Program, served as the host. There were four rounds of Family Fusion, with teams representing the Seminary, College of Technology, Administration, School of Architecture, College of Arts & Sciences, School of Education, School of Business Administration and staff. Each team of three players had a team name, for example, the Administration team was called "Big Cheese" and the School of Business Administration team was called the "Balancers." Ferguson read fictitious survey questions, such as, "Name a frequent Saturday night destination" and "Name a part of campus that's most difficult to keep clean." A popular answer throughout the night was "the tubing hill."

Dave Faehner, vice-president for University Advancement and a member of the "Big Cheese" team, held the distinction of being the only Family Fusion participant to have actually appeared on the real Family Feud. Much to the amusement of the audience, a clip of Faehner's 1979 appearance on Family Feud was shown.

Throughout the program, rounds of Family Fusion were interspersed with the presentations of the awards.

Siegfried H. Horn Excellence in Research and Creative Scholarship Award
This award was established to recognize lifetime scholarship achievement of Andrews University faculty members. The chair of the Scholarly Research Council accepted nominations in four separate categories: Arts, Humanities and Education; Pure and Applied Sciences; Professional Programs; and Religion and Theology. Award recipients, who must be associate or full professors and full-time employees for a minimum of five years, were selected by the membership of the Scholarly Research Council.
The recipients for this inaugural award were Karen Allen, professor of nursing, for the area of Professional Programs; Larry Burton, professor of teacher education, for the area of Arts, Humanities and Education; Richard Davidson, J.N. Andrews Professor of Old Testament Interpretation, for the area of Religion and Theology; and Shandelle Henson, professor of mathematics, for the area of Pure and Applied Science.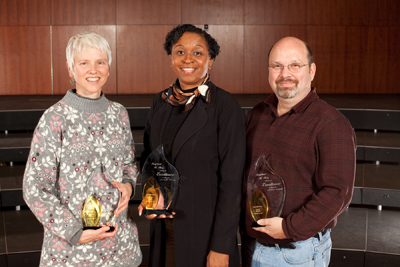 L-R: Shandelle Henson, Karen Allen, Larry Burton
Excellence in Service Award Recipients
Three staff members were honored with Excellence in Service Awards: Sharon Dudgeon, manager of WAUS; Steve Nash, assistant to the Seminary deans for financial and strategic planning; and Michelle Wallis, benefits specialist, Office of Human Resources. The award is given in recognition of outstanding service to the University, the Church, and the community, and for demonstrating, by precept and example, a Christ-centered life.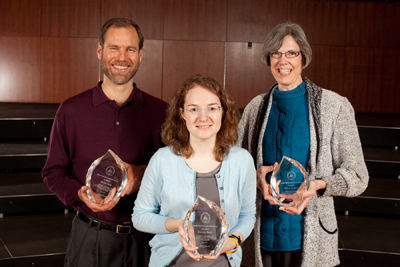 L-R: Steve Nash, Michelle Wallis, Sharon Dudgeon
Daniel A. Augsburger Excellence in Teaching Award
Nine faculty members received the Daniel A. Augsburger Excellence in Teaching Award. This award recognizes faculty whose teaching reflects the high standards of excellence modeled by Dr. Augsburger in his 60 years of teaching at Andrews University. Augsburger's leadership, academic rigor, breadth of knowledge, teacher-scholar role, along with care and concern for students, exemplify the best of faculty endeavors. Faculty from each school nominate and choose their individual candidates. This year's recipients were: Kim (Sam) Chuah, professor of economics, School of Business Administration; James Doran, assistant professor of aeronautical technology, College of Technology; Ann-Marie Jones, assistant professor of social work, College of Arts & Sciences; Mark Moreno, associate professor of architecture, School of Architecture; Darah Regal, assistant professor of audiology, College of Arts & Sciences; Barbara Reid, associate professor of teacher education, School of Education; Dianne Staples, associate professor of English, College of Arts & Sciences; Peter Swanson, assistant professor of pastoral care, Seventh-day Adventist Theological Seminary; and Robert Zdor, professor of biology, College of Arts & Sciences.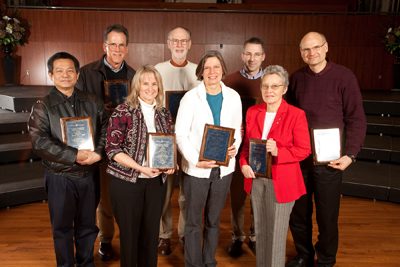 L-R, back row: James Doran, Peter Swenson, Mark Moreno, Robert Zdor.
L-R, front row: Sam Chuah, Darah Regal, Dianne Staples, Barbara Reid
Spiritual Life Award
Lael Caesar, professor of religion, has been a member of the Andrews University faculty since 1996. His spiritual influence on campus earned him the honor of the Spiritual Life Award. Said one student, "Dr. Caesar's sense of humor is unparalleled among college professors. The most amazing thing is that Dr. Caesar's humor is always a compliment to—rather than a distraction from—his rigorous academic and spiritual goals for his classes." The Spiritual Life Award is awarded to any employee, faculty or staff who has made a significant contribution to the spiritual life of campus. Names are considered and voted by the Spiritual Life Committee.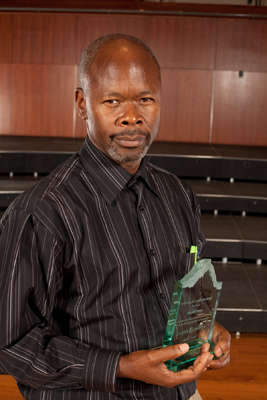 Lael Caesar
40 Years of Service Award
Alan Anderson has taught physical education, technology and drivers' education at Andrews Academy since 1970. He graduated from Andrews University with a Bachelor of Arts in industrial education, and received a Master of Arts in industrial education from Western Michigan University in 1974. He is often seen riding his bicycle to class, and is known for his hardworking nature and willingness to help students that ask for his advice. He is a member of the Industrial Technology Education Association.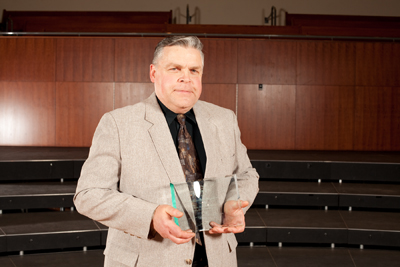 Alan Anderson
35 Years of Service Awards
Dean Snow has served as manager of Custodial Services since 2007, and has dedicated all of his service at Andrews entirely to that area. He earned a certificate in auto mechanics from Andrews University in 1974. Dean has always been industrious in his work responsibilities, and is always willing to go the extra mile. Always willing to respond to a need or request with helpful suggestions and work force, he continues to elicit responses like: "Wow! Dean Snow has been so helpful and expedient in meeting our request. He is such a pleasure to work with. His whole team is so friendly and helpful. They work so hard and Dean Snow is there leading the way."

Jeannie Wolfer is certification registrar for the Department of Teaching, Learning & Curriculum. Her colleagues remark that she is pleasant to all whom she meets, cares for the students, and helps them plan just the right schedules. One colleague says, "I suspect she knows more about certification than anyone else, and probably does more comprehensive advising than anyone on campus." She also goes the extra mile for her colleagues, and many cite her incredible support, both as a colleague and as a friend.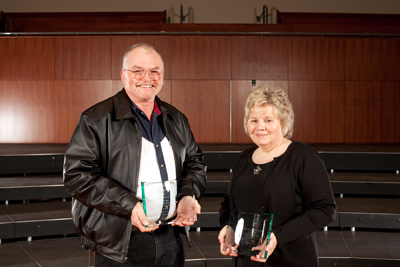 Dean Snow and Jeanie Wolfer
30 Years of Service Awards
Douglas Jones is professor of English, and chair of the Department of English. He received a Bachelor of Arts in English in 1972 from Walla Walla College and a Master of Arts in English from Andrews University in 1980. He received his doctorate in English from Michigan State University in 1990. Jones has acted as director of the Writing Center, director of University Relations and editor of Focus, professor of teacher education, and co-director of numerous on-location study programs in Europe. He is a member of the National Council of Teachers of English, Phi Kappa Phi, Michigan Academy of Sciences, Arts and Letters, Adventist English Association, and Sigma Tau Delta.

Øystein LaBianca is professor of anthropology and the "father" of the modern Department of Behavioral Sciences. He graduated from Andrews University in 1971 with a Bachelor of Arts with honors in behavioral sciences and religion. He earned a Master of Arts in anthropology from Loma Linda University in 1976, and completed his PhD in anthropology at Brandeis University in 1987. LaBianca is a member of numerous professional societies including the American Schools of Oriental Research, of which he is vice-president for archaeological research. His work in Jordan has received grants from the National Geographic Society, the National Endowment for the Humanities, and other foundations.

Valerie Phillips is associate dean of the women's residence hall. She graduated with a Bachelor of Arts in behavioral science and a minor in English from Atlantic Union College in 1978, and continued her graduate studies at Andrews University. Before coming to Andrews, she was an aide at Worchester Memorial Hospital in 1978 and an assistant chaplain at Battle Creek Sanitarium and Hospital from 1978–1980. She is known for her warm and compassionate spirit, her quick wit and exceptional wisdom, and countless acts of unexpected kindness for her students. She is a member of the Adventist Student Personnel Association, and was regional director from 1987–1988.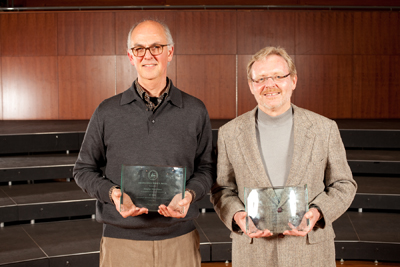 Doug Jones and Øystein LaBianca. Not pictured: Valerie Phillips
The awards portion of the evening also included recognition of employees with 5, 10, 15, 20 and 25 years of service with the University.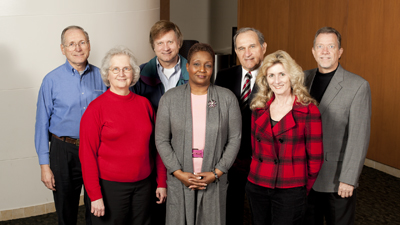 25 Years-of-Service
Front row, L-R: Christine Carlson, Nancy Carter, Frances Faehner. Back row,
L-R: Werner Pressnitz, Randall Younker, David Faehner, Glenn Russell
Not pictured: Fernando Canale, James Hayward, Cynthia Helms,
Christine Robbins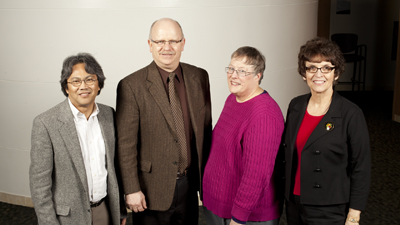 20 Years-of-Service
L-R: Jimmy Kijai, David Nowack, Alice Williams, Dixie Scott. Not pictured: Ruth
Abbott, Edelmira Guzman, Ronald Knott, John Markovic, Lauren Matacio, Avani
Pinheiro, Claudia Sowler, Thomas Straman, Socorro Terrero
15 Years-of-Service
Front row, L-R: Kristine Knutson, Anna Piskozub, Wanda Cantrell, Shelly Perry,
Katherine Koudele. Back row, L-R: Timothy Trine, Allen Stembridge, Lester Birney,
Charles Tidwell, R Clifford Jones. Not pictured: Larry Burton, John Carlos Jr,
Bryan Clayton, Josip Horonic, Rhonda Peak, John Reeve, David Sherwin,
Erling Snorrason, Reginald Swensen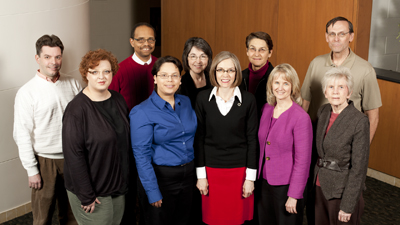 10Years-of-Service
Front row, L-R: Roberta Colwell, Dina Simmons, L Monique Pittman, Darah Regal,
Delyse Steyn. Back row, L-R: Rodrick Snow, Jon (Michael) Harris, Rita Pusey,
Deby Andvik, David Susens. Not pictured: Larry Adams, Skip Bell, James Doran,
Cheryl Doss, Todd Freeman, Phillip Giddings, Vida Giddings, Alvin Glassford,
José Goris, Enid Harris, Magaly Hernandez, Joon Hyuk Kang, S Joseph Kidder,
Trevor O'Reggio, Sheila Prillwitz, June Scott-Grzybowski, Stephen Thorman,
David VanDenburgh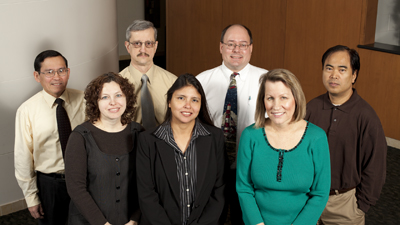 5 Years-of-Service
Front row, L-R: Galina Dyman, Graciela Gaytan, Vicki Thompson. Back row,
L-R: Felipe Tan, Erno Gyeresi, Glenn (Chip) Meekma, Wilfredo Diaz. Not pictured:
Marjorie Bates, Daniel Bortz, Duane Covrig, Stefanie Elkins, Alan Kirkpatrick,
R Andrej Kis, Laren Kurtz, Hyung Kwon, Anne Oyerly, Evelyn Perez,
Armand Poblete, Keila Sanchez, Vicki Wiley, Richard Wright