47th Annual International Food Fair
Top Headlines
Date:
March 17, 2011
Contact:
pr@andrews.edu
Website:
Phone: 269-471-6395
A longstanding Andrews University tradition, the 47th International Food Fair promises authentic cuisines prepared by volunteers from more than 20 international clubs representing cultures and traditions from around the world.
The public is invited to attend this year's annual event on Sunday, March 27, at the Johnson Gym on the campus of Andrews University.
From noon to 7 p.m., visitors will enjoy a small taste of the diversity represented among the student body. Admission to the event is free.
Each spring, dozens of campus clubs join together for this tasty tradition. Over 150 volunteers help prepare vegetarian entrees, drinks and desserts from countries around the world, including Brazil, Europe, Kenya, Korea, South Asia and South Pacific, to name a few. Each booth will offer an authentic menu while showcasing various displays, music and ethnic décor.
Nearly 5,000 visitors attend the fair annually. Each year, there are the familiar ethnic dishes, such as eggrolls, quiche, chips and salsa, and new flavors including pansit, chapati (a special Indian bread resembling a tortilla) and samosas (a Southeast Asian triangular-shaped pastry shell stuffed with spiced potatoes, onions and peas). If you aren't feeling adventurous, an all-American favorite, the corn dog, is sure to please. Satisfy your sweet tooth with tasty bubble tea, Brazilian fudge candy, delicious pastries, cakes, rolls and an assortment of European bakery treats.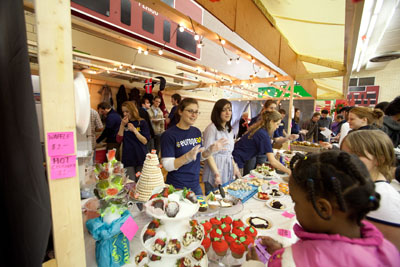 Approximately $30,000 has been raised each of the past few years through the Food Fair, held annually since 1964. All proceeds benefit the participating clubs.
Food tickets can be purchased the day of the event in the ticket office of the Johnson Gym. Tickets are sold in increments of $5 and menu prices range from 50-cents to $6. Students will be allowed to access money from their cafeteria accounts to buy meal tickets. For more information, please contact the Office of International Student Services at 269-471-6395.