International Music Competition
Top Headlines
Date:
March 31, 2011
Contact:
cflores@andrews.edu
Website:
Phone: 269-471-3555
The fourth annual International Music Competition at Andrews University took place on Sunday, March 27, in the Howard Performing Arts Center on the campus of Andrews University. The event was sponsored and organized by the Andrews University Department of Music and features a different area each year (piano, strings, voice or winds).
This year's focus areas were wind, brass and percussion. A group of five musicians selected from a pool of national and international applicants were chosen to perform for the event based on submissions of recorded performance. Finalists in this year's competition, including their instrument, home country and current university, were: Ricardo Flores, trumpet, United States/Mexico, Andrews University alum; Daniel Mendoza, clarinet, Venezuela, Andrews University; Tyler Rand, oboe, United States, Southern Adventist University; Debra Rosengren, flute, Canada, Andrews University; and Paige Wright, flute, United States, Southern Adventist University.
Participants performed two movements of contrasting styles at the competition and were awarded based on decisions by the judge's panel. The prizes for first and second place ($1,000 plus a solo performance with the Andrews University Orchestra or Wind Symphony for first and $500 for second) was shared between Daniel Mendoza and Tyler Rand. Each received $750. Third prize ($300) was awarded to Debra Rosengren. Fourth prize ($200) was awarded to Ricardo Flores, and fifth prize ($100) was awarded to Paige Wright.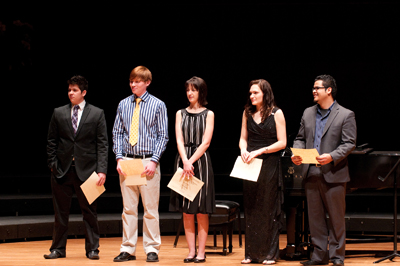 Pictured L-R: Ricardo Flores, Tyler Rand, Paige Wright, Debra Rosengren
and Daniel Mendoza. (Photo by IMC photographer Esther Nooner)
"It is good to have Andrews moving through the musical world like an institution that promotes students' excellence and competitiveness," says Claudio Gonzalez, conductor of the Andrews University Orchestra and Sinfonietta. "Considering previous experiences, we have had higher ranked artists playing concerts as winners with the Andrews University Orchestra... In my opinion, that is one of the benefits for our music department and for Andrews at large."
The 2011–2012 International Music Competition will feature performers from the area of piano. To be eligible, participants must be between the ages of 17 and 27 or currently enrolled in a masters/undergraduate degree program or high school from any country. To request application forms or additional information, contact Carlos A. Flores, Andrews University International Music Competition director at 269-471-3555 or via email at
cflores@andrews.edu
.