Jesus. All.
Top Headlines
Date:
March 9, 2011
Contact:
pr@andrews.edu
Website:
http://www.the1project.org
Phone:
"It emptied me of garbage, to make space for Him."
"It was such a blessing. Jesus is awesome!"
"I want to be saturated by Jesus."
"It" is the One project. The story of its inception is reminiscent of a modern day parable. Seven men shared a common bond: A deep love for Jesus. Their lives were already committed to Christ, but there was something in each of them that desired to be re-centered both in their own spiritual lives and within the Church they love. The question was: how?
Each of them are leaders in the Seventh-day Adventist Church: Alex Bryan, senior pastor at the Walla Walla University Church; Japhet De Oliveira, director of the Center for Youth Evangelism and chaplain for missions at Andrews University; Dany Hernandez, pastor for collegiate and young adult ministries at Forest Lake Adventist Church; Eddie Hypolite, associate youth director for the South England Conference, UK; Sam Leonor, pastor for LaSierra University; Tim Gillespie, pastor for young adult ministries at Loma Linda University Church of Seventh-day Adventists; and Terry Swenson, campus chaplain for Loma Linda University.
For 9 months, they planned. Then came a day in July 2010 when five of them gathered at a Holiday Inn in Denver, joined periodically by the other two through the wonders of modern technology. For two days, they prayed. They fasted. They shared in communion. They reflected upon a simple statement: Jesus. All.
"It sounds incredibly simple, but it was our 'ah-ha' moment," says De Oliveira. They remembered the energy that started the Seventh-day Adventist Church. They shared that same deep desire to see Jesus return.
For two days, they dialogued and dreamed. "We started with a desire to gather people together for prayer, Bible study and reflection on the person of Jesus," says Leonor. "After this first gathering I am ready to say we are addressing a need. The need is Jesus as the center of everything we do."
"Secularism has taken root and the power and presence of Jesus is missing," says De Oliveira. "We have a generation who are almost-Christian but lack vitality in their faith.
As their conversations unfolded, their mission began to take shape. "What if we gathered together leaders from all over the world to celebrate the supremacy of Jesus in the Seventh-day Adventist Church?" "What if we gathered and focused on what it would mean for us, on a personal, and then local, and finally global community?" "What if we had honest conversation about our legacy, heritage and call for our Church today?" "What if we brought leaders, youth and adults, young and old, employed and retired, pastors and members and simply soaked in Jesus again?"
After two days together, the seven returned to their homes and ministries. And like a single pebble thrown into a still lake, creating circles that continue to widen, their renewed passion for Jesus in our Seventh-day Adventist Church spread. Their movement adopted the moniker the One project.
With their hearts on fire for Jesus, these seven modern-day disciples began to seek out others to join them in their renewed mission to celebrate His supremacy. As they looked around at their friends, family, colleagues, students, church members, each of them felt God's leading as one-by-one, they extended personal invitations for others to come to the next One project gathering.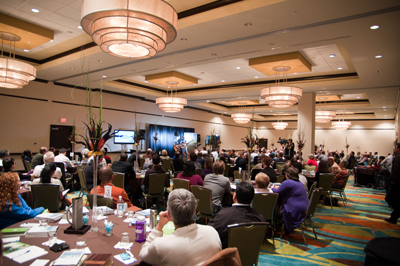 The One project gathering in Seattle, February, 2011.
De Oliveira invited Kessia Reyne Bennett, a graduate student at Andrews University. "I longed for more of Jesus in my life and in the denomination I love. It sounded like this gathering was going to part of a movement to see that realized. I wanted to be a part of that," she says.
Sam Leonor hopes this movement can turn attention to what matters most. "When William Miller wrote about the soon coming of Jesus, he expressed a deep love and longing for Him. He was less concerned with streets of gold, eternal life, etc. He wanted to be with Him. My desire for our Church is that we renew that kind of devotion to Jesus. That our longing be solely for His presence."
What began with just seven men who love Jesus grew to nearly 180 at the February 2011 One project in Atlanta. There, for a day and a half, it was Jesus alone who took the spotlight. Each of these men shared personal testimony and reflections about their Jesus: Jesus in our Church; Jesus in our History; Jesus in our Theology; Jesus in our Mission; Jesus in our Experience and finally, a Jesus. All. Communion service. The leaders' heartfelt testimonies, paired with opportunities for dialog, responses, prayer and worship through music resulted in a transformative experience for those who came to see what the One project was all about.
"I chose to attend the One project because I truly believed that Jesus was working in the lives of its leaders," said Leah Rodriguez, a student at Andrews University. "I wanted to be a part of that. I saw it as a chance to see Jesus in a new light."
Benjamin Lundquist, a youth pastor at the Camelback Seventh-day Adventist Church in Phoenix, Ariz., came away from the One project with a renewed energy unlike anything he'd experienced before. "To sit in a room with some of the most influential minds in our Church and purely worship and proclaim Jesus as Savior and Lord! I left Atlanta with a renewed focus and energy for my personal spiritual journey and in my ministry calling. The One project was a chance to leave facades behind, let down your guard, express questions, let the world know you don't have all the answers, and simply 'be' with Jesus."
It began with seven. It has taken a grassroots hold upon a rapidly growing number of faithful believers in the Seventh-day Adventist Church. Their energy will undoubtedly spread. But that's exactly what those seven spiritual leaders dreamed of.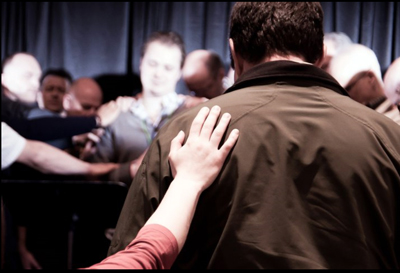 "That's what the One project is about," says De Oliveira. "We dreamed of starting something to stimulate the preaching, worship and adoration of Jesus within and throughout the Seventh-day Adventist Church.
First there were seven. Then there were 180. Only God knows what the One project gatherings in Finland (Oct. 31–Nov. 1, 2011), again in Seattle (Feb. 13–14, 2012) and Denmark (Oct. 29–30, 2012) will hold. But it's not about the numbers, rather, the effect the One project is having upon the family of Christ. For where two or three are gathered in my name, there am I among them. Matthew 18:20.
The One project is partner of the Center for Youth Evangelism, a training and resource center for claiming, training and reclaiming youth and young adults for Jesus Christ. It is located on the campus of Andrews University in Berrien Springs, Mich., as part of the Seventh-day Adventist Theological Seminary. Learn more about the One project at www.the1project.org.

-Written by Keri Suarez, media relations specialist, Office of Integrated Marketing & Communication