Cardinals are USCAA Div. II Champs
Top Headlines
Date:
March 9, 2011
Contact:
pr@andrews.edu
Website:
Phone:
The Andrews University Men's Cardinal Basketball team made history Saturday night, March 5, when they upset the University of Cincinnati Clermont in what many would call a "David vs. Goliath" victory. The Cardinals were competing in the United States Collegiate Athletic Association (USCAA) Men's Division II Championship and "knew we had our hands full," says David Jardine, head coach. The Cardinals started off with an 8-0 run and never trailed, defeating UC-Clermont 69-54.
The USCAA tournament took place on the campus of Penn State Fayette University in Uniontown, Pa., March 1–5. Only the top eight USCAA Men's Division II teams from across the nation were invited to the event. This is the second year that the Cardinals have participated in the tournament and the first year they've made it to the finals.
The Cardinals played their first tournament game on Wednesday and defeated #4 ranked Berkeley College 62-61. Ryan Little, senior guard, sent the game into overtime with a last-second 3-pointer despite the Cardinal's 7-point deficit with 2 minutes left in regulation. In the final seconds of overtime, Tyler Wooldridge, freshman guard, sank another crucial 3-pointer to put the Cardinals one point ahead, sealing the deal for a Cardinal spot in the semifinals. On Friday morning, the team faced off against #8 ranked Penn State Beaver College and won 61-51.
Following their second victory, the Cardinals advanced to the championship game where they would face off against UC-Clermont, ranked #2 in the nation. UC-Clermont had defeated other teams by as many as 33 points earlier in the week. They were favored to win the championship game against Andrews by some 20 points.
"We went into the locker room before the UC-Clermont game and knew that all the pressure was on the other team. No one really gave us a chance to win. We just knew that we had to play a great game, and everybody had to play to the best of their abilities and play together," says Jardine. "We [the coaching staff] told the guys that if they could hold UC-Clermont to less than 60 points and out-rebound them, we were going to win. Our guys did both of those things."
Andrews led by as many as 21 points during the championship game and never trailed. Freshman starters Tyler Wooldridge and Matt Little each scored 16 points with Tyler dishing out 4 assists and Matt grabbing 10 rebounds. Ryan Little scored 19 points in the game, leading Andrews to their first-ever USCAA Men's Division II National Championship.
The tournament held a special distinction for two members of the team. Tyler Wooldridge was named a member of the Men's Division II All-Tournament Team. Ryan Little was named a USCAA All-American and Tournament MVP.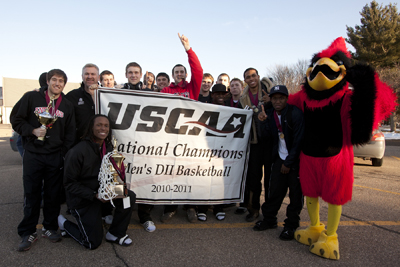 "This being my last game, it was exciting to go out with a win," says Ryan. "... This season has kind of been a dream come true for me. I couldn't have asked for a better year and a better group of teammates. I think after the game, I just realized that this year has been a blessing and an amazing experience, and it couldn't have ended any other way."
Even more impressive than the Cardinals' winning streak and talent was their Christian example to the other teams. The Cardinals' Friday night and Saturday morning games were rescheduled by the USCAA "in order to accommodate for Andrews University, a Seventh-day Adventist member…" as stated on the USCAA website.
Though the Cardinals are losing senior starters Ryan Little and Thomas Jardine, the team is already shaping up for next season. Players from various academies who participate in the annual Cardinal Classic have been recruited, and the coaches expect another successful season building on this year's accomplishments.
The 2010–2011 Men's Cardinal Basketball Team members are: Clifford Allen, Joshua Faehner, Alec Friedrich, Brandon Garrett, Jason Garrett, Charis Goulding, Ronaldo Green, Thomas Jardine, Matthew Little, Ryan Little, Jerome Murray, Junior Orelus, Ben Weakley and Tyler Wooldridge.