White Wins Excellence in Education Award
Top Headlines
Date:
May 19, 2011
Contact:
Website:
Phone:
He's been walking the halls of Andrews Academy for years, greeting everyone he encounters. He keeps an open office door, always ready to help a student. When he taught algebra and chemistry, he held weekly help sessions at his home. He's the first one to arrive at school—he walks from his home, even in the winter—and one of the last ones to leave. Since he came to Andrews Academy in 1976, Cleon White has shown an unparalleled dedication to and care for his students. This May, they had the chance to repay him for all he's done.
May 16 was Awards Day at Andrews Academy, and the television cameras hovering in the back of the auditorium caused a bit of a stir, but no one seemed to know why they were there. As White finished presenting the awards, Sari Butler, guidance counselor, stepped on stage with a WNDU microphone and announced that there was one more award left to give.
By now, many of the students had figured out what was going on. A month before, Academy senior Janessa Howell had begun a Facebook group and email chain to nominate White for WNDU's annual 16 Excellence in Education awards. Students from past and present emailed Tricia Sloma, WNDU's morning show anchor, to share what White had done for them and why he deserved the award.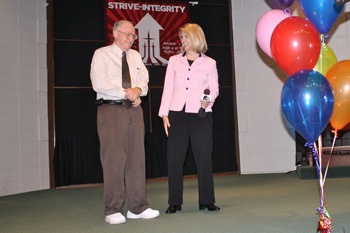 NewsCenter 16's Tricia Sloma surprised White with a 16 Excellence in
Education Award. (Photo contributed by Steve Atkins)
When Sloma walked in carrying a large bouquet of balloons and announced to the school Mr. White had won the award, the auditorium erupted into cheers. Sloma then related that she was impressed by the volume of emails she'd received nominating White.
White was "a little teary eyed," said science teacher Steven Atkins, after receiving the award. He stepped up to the podium and thanked the students for their nominations. Then, he thanked God for the strength to do what he does, "as he naturally does in so many other situations," said Atkins.
The festivities didn't end there, however; Mr. White was due to appear on WNDU two days later. Following the awards assembly, Sloma asked several students to read their nominations for the television segment.
"In the classroom, he teaches with an attitude of love, of acceptance, and as the school principal, he has led our school with quiet dedication and a humble attitude," said Erica Bradfield, who graduated several years ago.
Alex Gaytan, a senior, says White's influence goes beyond merely the scholastic. "What I have learned from Mr. White and his gentle manner is that there's never a time where you need to lose your composure. He never loses his composure and yet he gets his point across."
And although he's their principal, he can always relate to his students: freshman Will Tee says, "He has a great sense of humor and a unique connection with the students. He's always in a great mood."
Thomas Baker, English teacher and longtime colleague, then read from a yearbook that the students had dedicated to White several years earlier.
The story aired just a few days later on 16 Morning News and students throughout the area woke up early to watch it. "For me it meant getting up a little earlier," said Atkins, "although for Mr. White the day will be half over by then…he often goes to work at 3 a.m. so he can finish what he needs to before people come to school."
Sloma presented White with an oversized check for $1,000 for the school's use. Surprised yet characteristically humble, he expressed his gratitude and once again thanked the students, parents and God.
Later that morning, White was back at the academy when school began, walking the halls in his iconic white running shoes, smiling at students—business as usual for a man who has quietly impacted the lives of generations of students.
-Written by Samantha Snively, student news writer, Office of Integrated Marketing & Communication