Associate Dean for Griggs Named
Top Headlines
Date:
May 10, 2011
Contact:
Website:
Phone:
Janine Lim is the new associate dean for higher education for Griggs University, headquartered on the campus of Andrews University. Her start date is July 1, 2011. Griggs University & International Academy is an accredited, values-based distance education and homeschool provider that offers individual courses and complete programs to students preschool through university. Ownership of Griggs University was transferred to Andrews University in November 2010.

"I am excited to join Griggs University & International Academy because I want to help create engaging interactive learning opportunities for Adventist students globally," says Lim. "I look forward to serving Adventist education worldwide through the use of a variety of innovative technologies. I hope to bring enthusiasm for Adventist education and a passion for using technology to bring learning opportunities to students wherever they may be."

Lim has served as the Instructional Technology Consultant for the Berrien Regional Education Service Agency (RESA) since 1998. As technology consultant, she coordinates distance learning for 20 school districts, teaches online graduate-level technology classes, and helps train teachers for technology integration. She began her career as a language arts and Bible teacher at Griswold Christian Academy in Ohio. After one year there, she was appointed in 1997 as an instructional technologist for the Berrien County Intermediate School District (now Berrien RESA). She has also served as adjunct faculty in distance education courses for the Berrien RESA; the Adventist Virtual Learning Network serving La Sierra University and Andrews University; and classes offered through Central Michigan University and Western Michigan University. She has taught classes on videoconferencing in the classroom, interactive curriculums, and integration of technology and the Internet into curricula.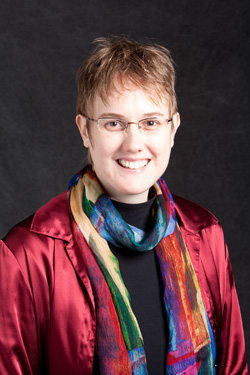 "Janine Lim is a leader in distance education and innovation in education. She brings the kind of skills and experience we need to build distance education programs of excellence," says Alayne Thorpe, interim president of Griggs University. "Perhaps even more significantly, she is dedicated to using technology to take Adventist education wherever there is need."

Lim is a triple alumnus of Andrews University, holding a Bachelor of Arts in Communication (1995), a Master of Arts in Teaching (1996), and a PhD in Leadership (2010). She and her husband, James Lim, currently reside in Berrien Springs.

Lim has served as a member of several non-profit technology-education integration boards, including current president-elect of TWICE: Two Way Interactive Connections in Education; as an online course committee chair of the Adventist Virtual Learning Network since 2002; and featured speaker and online services chair for the Michigan Association of Computer Users in Learning from 2002–2003.

She has given numerous presentations, keynote speeches, and workshops at colleges, universities, professional and research conferences, schools, and conventions nationwide and in Mexico, Canada and the United Kingdom.

Lim is a member of a number of professional organizations including the American Educational Research Association, the Michigan Association of Computer Users in Learning, the International Society for Technology in Education, and the United States Distance Learning Association.

Lim received an Educator of the Year award in 2010 from the Michigan Association of Computer Users in Learning, an Outstanding Leadership Award in 2008 from the United States Distance Learning Association, and a number of other professional awards.