Griggs Principal, Assoc. Dean Announced
Top Headlines
Date:
May 11, 2011
Contact:
Website:
Phone:
La Ronda Curtis Forsey has been appointed associate dean for Griggs University and principal of Griggs International Academy. Griggs is an accredited, values-based distance education and homeschool provider that offers individual courses and complete programs to students preschool through university. Ownership of Griggs University was transferred to Andrews University in November 2010. Forsey's start date is July 1, 2011.
Forsey brings 26 years of teaching and educational administration to her role at Griggs. She currently serves as the principal at Atlanta Adventist Academy (AAA) in Atlanta, Ga.
"The thing that intrigues me about joining Andrews University is the opportunity to be innovative in a global setting—using my background experiences to reach out to a wide range of students," says Forsey. "I look forward to building new programs with a team of people who are dedicated to Adventist education and God's service."
Forsey has worked as an English and social studies teacher at the alternative Horizon Preparatory School in Chattanooga, Tenn.; a composition teacher at Southern Adventist University; and an English and English as a Second Language teacher at Forest Lake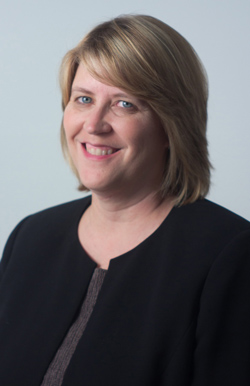 Academy in Apopka, Fla. Her years of experience in administration began in 1996 when she began a six-year stint as vice principal, as well as English and ESL teacher, at Maxwell Adventist Academy in Nairobi, Kenya. In 2002, she moved back to the United States where she served for three years as vice-principal of marketing and recruiting for Campion Academy in Loveland, Colo. Of her six years at AAA, two were spent as principal, and four as the vice principal for marketing and development. During her tenure, enrollment doubled and AAA became an innovative multi-campus school. Three metro Atlanta sites and five partner schools now use interactive simultaneous videoconferencing technology.
"As we build Griggs University on the campus of Andrews University, we have looked for three characteristics in all candidates—first, a dedication to God and a commitment to Adventist education; second, the skills and experience necessary to build excellent distance education programs on a number of platforms; and third, the vision to see how distance education can serve the world Church by using technology to promote collaboration," says Alayne Thorpe, interim president of Griggs. "La Ronda brings together faith and commitment, skills and experience, and vision. She's a tremendous resource for our Church."
Forsey holds a Bachelor of Arts in English from Southern Adventist University and a Master of Science in Educational Administration from Scranton University. In addition, she holds a number of certifications from the University of Central Florida, Rollins College and Southern Adventist University.
Forsey and her husband David have two sons. Drew is a sophomore studying chemistry at Southern Adventist University. Dillan is a senior at Atlanta Adventist Academy.