Bourget Joins Campus Ministries
Top Headlines
Date:
July 13, 2011
Contact:
cm@andrews.edu
Website:
http://www.andrews.edu/life/spiritual/
Phone: 269-471-3211
José Bourget is moving his ministry—to the other side of campus. Effective July 1, Bourget is the newest member of the chaplain team in the Office of Campus Ministries. He will be the chaplain for outreach and is replacing Keren Toms, who recently married and moved from the area.
For the past year, Bourget has served as the assistant director of the Center for Youth Evangelism (CYE). There he was responsible for a number of ministries including Cruise with a Mission, Church of Refuge, We-Care short-term mission trips and daytime programming for the International Pathfinder Camporee. In this role, he also had an opportunity to work closely with numerous Andrews students.
Ron Whitehead, assistant to the president for spiritual life, says José is a uniquely qualified pastor to lead Campus Ministries' outreach programs. "He knows this campus so very well and is already networked with faculty and staff. José has proven his leadership ability by serving as a conference young adult associate youth director and he has an 'over-the-top' love for both young adults and Andrews University."
"This is the place where dedicated faculty and staff inspired and prepared me to change the world," says Bourget. "I am humbled and excited to offer the same to this generation of Andrews University students."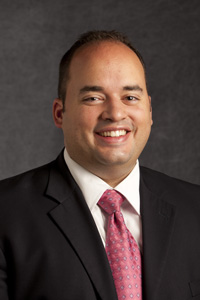 Jose Bourget
Born in the Dominican Republic, Bourget grew up in a small Hispanic church in Detroit, Mich. During his years of study at Andrews University, Bourget worked in a variety of leadership roles at the Center for Youth Evangelism, as practicum director for the Department of Religion & Biblical Languages and as head student dean for the men's residence halls. Following graduation in 2002, Bourget served as a pastor, youth pastor and associate director for Young Adult Ministries in the Illinois Conference of Seventh-day Adventists.
Bourget is a co-founder of MyTown Ministries, a partnership between the Illinois Conference and Andrews University connecting students to a church following graduation. He also co-created Oasis, a network of young adults from various Chicago churches who serve, worship and fellowship together. Bourget was also part of the student leadership team who developed Mosaic and Fusion, both innovative student-focused worship gatherings on the campus of Andrews University.
"José has a transformational love for God that will help students seek spiritual knowledge, affirm their faith and change the world right here while they are in school and to continue to change the world after graduation," says Whitehead.
José married Marlene Santiago in 2003. They have two young children, Sophia and Jonah. As a family they enjoy taking adventures at the park, laughing at silly things and trying new cuisines.
-Written by Keri Suarez, media relations specialist, Office of Integrated Marketing & Communication