David Iwasa
Top Headlines
Date:
August 25, 2011
Contact:
Website:
Phone:
David Iwasa, the new dean of University Towers, comes to Andrews University from Gem State Adventist Academy in Caldwell, Idaho. University Towers is comprised of Burman Hall, a men's residence, and Damazo Hall, a women's residence, which are connected by a shared lobby area.

Prior to his arrival at Andrews, Iwasa worked as a residence hall dean at Gem State Adventist Academy since 2004. While there, he trained and managed staff in both the men's and women's residence halls, developed a worship program and taught a math class. Iwasa began his career as the treasurer at Thunderbird Adventist Academy in Scottsdale, Ariz., in 1990, and became dean of men two years later. He assumed the position of vice principal of Thunderbird Academy in 1994. He has also served as business manager and administrator at several assisted living facilities in Oregon and Washington. From 1995 to 1997, he worked as an accountant at Marketing One Securities in Portland, Ore. Of the many capacities he filled, he particularly enjoyed being a girls' dean. "Difficult but extremely rewarding and character building," he says.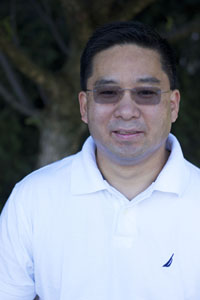 David Iwasa
While working at Gem State, Iwasa attended a deans' workshop at Andrews University and immediately noticed how well the Student Life team worked together. He felt God was calling him to Andrews and had prepared the way for him to arrive. He says, he "appreciates the team atmosphere prevalent in the residence halls and throughout the campus."
He is also the owner of K.I.D. Accounting Services since 2000, a company he started himself.
Iwasa holds a Bachelor of Business Administration and an MAT in educational leadership, both from Walla Walla University. He is married and has two children.

-Written by Samantha Snively, student news writer, Office of Integrated Marketing & Communication