Opening Night at Howard Center
Top Headlines
Date:
August 18, 2011
Contact:
hpac@andrews.edu
Website:
http://howard.andrews.edu/
Phone: 269-471-3560
The Howard Performing Arts Center celebrates a spectacular 2011-2012 season with their annual Opening Night! concert, on Sunday, August 28 at 7 p.m. The concert features Opening Night! regulars Lake Effect Jazz Big Band, and internationally acclaimed classical guitarist Petar Jankovic. For the first time, this year's Opening Night! celebration is even more family-friendly featuring a performance by the Andrews University Gymnics at 6 p.m. and free ice cream sundaes and face painting. No tickets are required for Opening Night!

Lake Effect Jazz was formed in 2000 by Tom Weidle, a local newspaper reporter, and Vito Tenerelli, a band instructor, as an artistic jazz concert ensemble. The group of 20 is primarily composed of music educators from across Southwest Michigan and the best jazz musicians in the area. They perform at local parks, festivals and lawn concerts throughout the Southwest Michigan area, and are regulars at the Howard's Opening Night.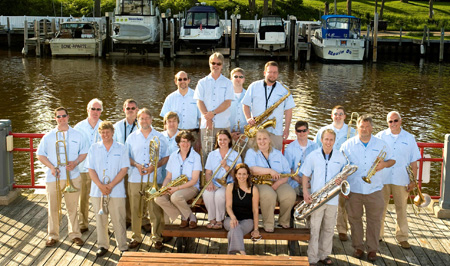 Lake Effect Jazz
Petar Jankovic is a professor and coordinator of the guitar department at the Jacobs School of Music at Indiana University, Bloomington. His music has been called "deeply personal" and "evocative." His audiences throughout the United States and Europe listen spellbound to his "genuine and artistic" interpretations. He has released three albums: Romantico, Bogdanovic, Brouwer, Dyens, and Leyenda, which have earned him acclaim from international critics and the appellation "one of the finest soloists on the [guitar] scene."
The Andrews University Gymnics is a 30-member team of sports acrobats. They combine difficult balancing stunts, complex pyramid building involving multiple transitions, progressive ground tumbling, teeterboard routines, handstand pressing on block stands and mini-tramp routines in a one-hour program. Not only are the Gymnics known for their fantastic performances on the gymnastics mat but also for their anti-drug assemblies and religious programming. They are led by Coach Christian Lighthall.