Andrews Welcomes Griggs Grads
Top Headlines
Date:
August 2, 2011
Contact:
pr@andrews.edu
Website:
Phone:
The summer 2011 graduating class at Andrews University celebrated Commencement Weekend, July 28-31. Despite the warm temperatures, graduates donned their caps and gowns several times throughout the weekend for a variety of events to celebrate this milestone. This summer's Commencement acknowledged the academic accomplishments of 745 graduates, which included nearly 500 from affiliate and extension campuses who graduated in absentia. This weekend was also witness to two Andrews University firsts: degrees were conferred for the first graduating class of Griggs University students on the Andrews campus and the first Outstanding Dissertation Award recipients from the School of Graduate Studies & Research were announced.

Friday evening, Richard M. Davidson, J.N. Andrews Professor of Old Testament Interpretation, offered the Consecration Address, "Flame of Living Fire."

Sabbath morning, Benjamin Schoun, chairman of the Andrews University Board of Trustees and vice-president of the General Conference of Seventh-day Adventists, gave the Baccalaureate Address, titled, "The Call." He imparted this piece of advice to the graduating class: "Make sure you go from this weekend with a conscious sense of the call, of the Call that God has given you."

On Sunday morning, Commencement ceremonies were held in sanctuary of Pioneer Memorial Church. Weymouth Spence, president of Washington Adventist University, delivered the Commencement address, "Make the Decision. Change the World." When Andreasen introduced Spence and acknowledged his Jamaican heritage, a round of applause went up from the graduating Jamaican students and their families in attendance. Spence began his address with this acknowledgement: "My friends, this is Andrews University—the premier higher education institution of the Seventh-day Adventist Church."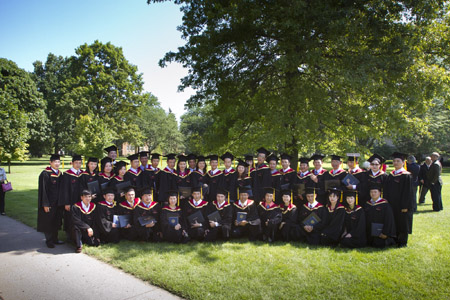 Forty-two of Griggs University's MBA students from Vietnam participated in Commencement
exercises. (Photo by Austin Ho)
First Griggs University Students Participate in Andrews Commencement

President Niels-Erik Andreasen was pleased to recognize, Alayne Thorpe, dean of the School of Distance Education, who conferred the first Griggs University degrees on the campus of Andrews University. Andreasen also extended a special welcome to ETC (Center for Educational Technology & Career Development), a partner of Griggs University, which is an associate organization of the National University of Vietnam in Hanoi and Ho Chi Minh City. ETC was represented by Trinh Phvong Nhi and 42 graduating MBA students were in attendance at the first Griggs University Commencement held on the campus of Andrews University.
Marta Kalbermatter Tooma

Marta Kalbermatter Tooma was awarded an honorary Doctor of Humane Letters. Wearing a traditional Fijian salusalu (similar to a Hawaiian lei), Tooma stood while Provost Luxton read her citation. Tooma is a dentist, businesswoman and philanthropist. After serving in Fiji for seven years in a small clinic, Tooma, her two young children, and her sister began what has become a lifetime commitment to the people of Fiji. In 2008, Tooma and her husband, Tom, established The Mission at Natuvu Creek, which provides professional medical and dental care, education, job training and counseling in healthful living and spiritual growth. Tooma also volunteers as a dentist in Sumba off the coast of Indonesia with the World Health Organization and the Sumba Foundation. Active in the Seventh-day Adventist Church, Tooma serves on the Board of Trustees of La Sierra University. In 1996, she and her husband established the Tooma Undergraduate Science Research Fellowship to help students pursue careers in the medical field.
Richard M. Davidson

For his contributions to higher education in the Seventh-day Adventist Church and expertise in Old Testament studies, Richard M. Davidson was awarded the J.N. Andrews Medallion. This award recognizes significant achievement in the advancement of knowledge and education by Seventh-day Adventist teachers, scholars and writers.
Davidson holds a Bachelor of Arts from Loma Linda University, a Master of Divinity from the Seventh-day Adventist Theological Seminary and a doctorate in biblical studies from Andrews University. Since 1979, Davidson has taught in the Seventh-day Adventist Theological Seminary where he is the J.N. Andrews Professor of Old Testament Interpretation. He has published five books, and contributed chapters to the Andrews Study Bible, various Biblical commentaries, and published works of the Biblical Research Institute. His most elaborate, scholarly publication is Flame of Yahweh: Sexuality in the Old Testament. Years were dedicated to this heavy manuscript, which is the most comprehensive study to date on the topic of biblical sexuality. His numerous articles have appeared in journals such as Journal of the Adventist Theological Society, Spectrum, Shabbat Shalom and Andrews University Seminary Studies. Davidson is a member of the Society of Biblical Literature, the Evangelical Theological Society and the Adventist Theological Society. He has received the Excellence in Teaching Award, the Seminary Student Forum Teacher of the Year Award and the Daniel A. Augsburger
Excellence in Teaching Award.
Outstanding Dissertation Award

The Summer 2011 Commencement was the inaugural awarding of the Outstanding Dissertation Award, which was established by the School of Graduate Studies & Research. There were two recipients of this award: Debrah Martin for her work, titled, "Communication Vision: A linguistic of leadership speeches" and Paul Evans for his work, titled, "A historical-contextual analysis of the final-generation theology of M. L. Andreasen." This award recognizes exceptional work by doctoral students and encourages excellence in scholarship, research and writing. Students are nominated for this award by the chair or member of their dissertation committee. There are seven criteria for the award: importance/impact/contribution of the dissertation; originality/creativity of the dissertation; quality of the scholarship; potential for publishing; quality of the writing; practical implications to the respective field of study; and other appropriate qualities that denote excellence and distinguish the dissertation.
-Written by Keri Suarez, media relations specialist, Office of Integrated Marketing & Communication