Committed in Concert
Top Headlines
Date:
September 9, 2011
Contact:
hpac@andrews.edu
Website:
http://howard.andrews.edu/
Phone: 269-471-3560
Note: Tickets to see Committed in concert at the Howard Performing Arts Center are sold out.

Committed, winners of NBC's a capella series
The Sing-Off,
will be bringing their vocal talents to Andrews University on Sunday, September 25 at 7 p.m.
The group began as a quartet at Forest Lake Academy in 2003, and expanded into a sextet in 2005. Today, Committed is Maurice Staple (first tenor), Alain Gervais (tenor, lead vocals, beat box), Theron Thomas Jr. (tenor 3, lead vocals), Geston Pierre (bass), Robert Pressley Jr. (tenor 4, lead vocals, beat box) and Dennis Baptiste Jr. (baritone). Geston Pierre is a graduate student at Andrews University.
After winning the 2010 nationally televised competition with a record number of votes, the group signed a contract with Epic Records and recently released a self-titled album that combines their jazz background with their gospel roots. "There's a little bit of something for everybody," says Gervais.
The group's repertoire, well-sampled on the album, reinvents audience favorites such as Al Green's
Let's Stay Together
, Michael Jackson's
Hold My Hand
, and
Sweet Home Alabama
, as well as powerful gospel songs such as
Down by the Riverside
and an original composition,
Break Free
.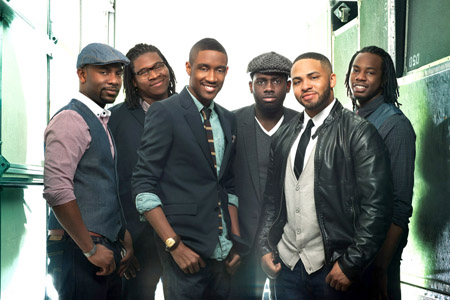 Committed understands the power of the human voice both to entertain and to change lives. When they performed Michael Jackson's
Hold My Hand
on
The Sing-Off
, one judge and several of the singers cried. Their songs are also a tribute to God's continual power in their lives. "It's a blessing to be able to do this," Pierre says. "We're just enjoying the journey."
Tickets for Committed can be purchased by calling the Howard Performing Arts Center box office at 269-471-3560 or 888-467-6442. Tickets for reserved seating are $25, faculty and staff tickets are $20 and Andrews University student tickets are $5. Special rates apply for groups and Flex Series tickets. Learn more by visiting
www.howard.andrews.edu
.
-Samantha Snively, student news writer, Office of Integrated Marketing & Communication