Francesca Battistelli in Concert
Top Headlines
Date:
October 14, 2011
Contact:
hpac@andrews.edu
Website:
www.howard.andrews.edu
Phone: 269-471-3560
A reviewer once said of Francesca Battistelli's music: "...soulful piano-pop sound resembles a blend of her music interests—jazz, rock, gospel and R&B." The sounds of this youthful, yet award-winning artist, will fill the Howard Performing Arts Center on Sunday, October 23, at 7 p.m.
Combining the influences of jazz, John Mayer, Sara Bareilles and Nichole Nordeman, Battistelli's music inspires and uplifts audiences worldwide in a variety of venues. With two albums to her credit, her work has been featured on television shows such as Extreme Makeover: Home Edition, NBC's The Biggest Loser and in the 2011 film Soul Surfer, to name a few.
Battistelli knew she wanted to be a singer/songwriter from the moment she saw The Secret Garden on Broadway. Both of her parents had extensive theatre backgrounds and in high school, she joined an all-girl mainstream pop group, traveling and giving live performances. When the group disbanded, she was grateful for a chance to "clear her head," which she did by going to a youth group. There, she began playing guitar to write "authentic songs that even non-Christians could listen to."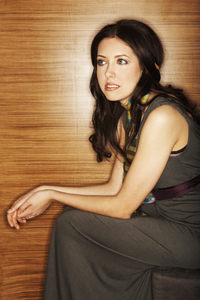 She moved to Nashville and set out to write "soulful pop music." Most of the tracks on her first album, Paper Heart, speak of her journey to a closer faith in God in a city where she knew almost no one. It earned her several Dove Awards as well as a Grammy nomination. The release was the biggest-seller for a debut Christian artist in nearly a decade and the longest-running #1 for a female artist in Billboard Christian Album Chart history. Her newest album, Hundred More Years, contains several Top 20 Christian songs including the hit, This Is the Stuff.
Tickets for Francesca Battistelli can be purchased by calling the Howard Performing Arts Center box office at 269-471-3560 or 888-467-6442. Tickets for reserved seating are $20, faculty and staff tickets are $20 and Andrews University student tickets are $10. Special rates apply for groups and Flex Series tickets. Learn more by visiting
www.howard.andrews.edu
.