Wakefield Named Top Trainer to Watch
Top Headlines
Date:
October 25, 2011
Contact:
Website:
Phone:
On Friday, Oct. 14, 2011, at the 26th annual Club Industry Show in Chicago, Dominique Wakefield, director of fitness and exercise studies at Andrews University, assistant chair of the Department of Nutrition & Wellness and assistant professor in that department, was named one of ten "Personal Trainers to Watch" by the American Council on Exercise (ACE) and Life Fitness.
After a six-month nationwide competition, ACE and Life Fitness, the leading manufacturer of commercial fitness equipment, named ten finalists along with the one "Top Personal Trainer to Watch" from a pool of 300 nominees, taken from over 260,000 fitness professionals in the U.S. Wakefield, one of the finalists, was recognized for her "significant commitment to fitness and in helping their clients achieve a lasting lifestyle change," said Chris Clawson, president of Life Fitness. A video of all the finalists is on YouTube:
www.youtube.com/watch?v=C81jJlyw3VU
.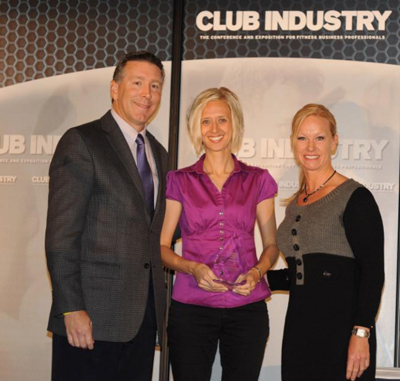 Christopher Clawson, (left), president of Life Fitness Division 
of Brunswick Corporation, was on hand to congratulate Wakefield
(center). They were joined by Deborah Plitt, a master trainer at
Life Fitness Academy. (Contributed photo)
Wakefield has initiated a number of fitness initiatives on campus since arriving in 2008, including the FitZone fitness lab, a Bachelor of Science in Health & Fitness, a Bachelor of Health Science in Wellness and a minor in Fitness Education; programs to certify students as personal trainers or group fitness instructors, the annual Fitness Expo, and has helped to encourage an atmosphere of fitness across campus. She is also instrumental in PMC's Health and Wellness Ministries, and assisted with the organization of the first Let's Move Day. She holds a leadership role in the faculty fitness initiative AhealthyU, is an ACE-certified personal trainer, and is assistant coach for the Lady Cardinals soccer team.
Wakefield was nominated for her dedication to physical fitness and motivating the Andrews campus to achieve their God-given goal. She says, "God has created us so wonderfully and He has created our bodies to be active and to move! Caring for the body is an essential part of our beliefs in the Seventh-day Adventist Church, but physical fitness has not received nearly as much focus and attention as have other parts of the health message. Our community is struggling with the same issues and diseases that the rest of America is dealing with and physical fitness will provide many solutions to these problems!"
-Written by Samantha Snively, student news writer, Office of Integrated Marketing & Communication