3rd Annual Celebration of Research
Top Headlines
Date:
November 18, 2011
Contact:
Website:
Phone:
On Thursday, Nov. 10, 2011, at the Third Annual Celebration of Research, faculty from across campus collectively exhibited nearly 100 research posters throughout Buller Hall. Almost every academic department on campus was represented with at least one poster. This annual event celebrates the growing body of research produced each year at Andrews.
"This is a faculty Celebration of Research. All presentations are done by faculty, although many of the presentations have student co-authors. A student Celebration of Research is held in the spring," says Gary Burdick, research professor of physics and associate dean for research. "One purpose of the celebration is to allow students to see the research being done by their professors, allowing them to make connections with professors they might like to do future research with." According to Burdick, in 2010 alone, Andrews faculty produced 14 full-length books, 70 book chapters, 139 articles in professional journals, 53 book reviews, and have given a total of 274 conference presentations and 61 performances and exhibitions.
Professor emeritus and artist Greg Constantine exhibited his newest works, "Poetic License," featuring quotes about and by artists in the license-plate medium he has experimented with before. "One of the definitions of creativity is making connections and seeing the world in a new way," he says. Of his body of creative work, he says, "I pursue things that excite me." The other research projects represented at the poster session are the products of these connections in other disciplines.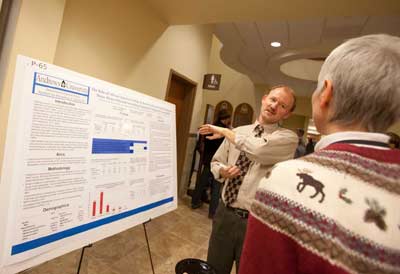 Curtis VanderWaal, chair of the Department of Social Work, explains his latest
research to Shandelle Henson, professor of mathematics. His poster was
entitled, "The Role of African Clergy in Reducing Mental Health & Substance
Abuse Disparities and Increasing Treatment Linkages for Congregants."
(Photo by IMC photographer Esther Nooner.)
Additionally, some students presented research they had coauthored with their professors. Department of Engineering & Computer Science students Tanner Williams, James Magbauna and Thomas Zirkle have assisted professors Boon-Chai Ng and Hyun Kwon with nationally published research. Joni Graves is a coauthor with Department of Speech-Language Pathology & Audiology chair Darah Regal on "The Efficacy of Differential Processing Training Program on Auditory Processing and Language Processing." The Celebration of Research gave these students the opportunity to work on scholarly research "completely different than anything I've done before," says Zirkle.
In addition to the 19 academic departments that presented research posters, the Celebration of Research also highlighted research activity from the Jordan Field School, the James White Library and the School of Distance Education.
The evening included a cycle of 12-minute oral presentations of research, highlighting work from a cross-section of departments, from History & Political Science and Social Work to Mathematics and Old Testament. Among the oral presentations was "Early Childhood Education Training in South Africa" by Heather Ferguson, associate professor of speech-language pathology, and "The Legacy of John Norton Loughborough to Seventh-day Adventism" by Brian Strayer, professor of history.
The evening concluded with four plenary presentations by the winners of the first Siegfried H. Horn Awards for Excellence in Research & Creative Scholarship. Shandelle Henson, professor of mathematics, described "The Mathematics of Animal Behavior" as it related to her own work with seagulls and sea lions. Larry Burton, professor of teacher education, gave a retrospective of his research career and his ever-evolving research interests. Karen Allen, professor of nursing, gave a short synopsis of her latest research, "Substance Abuse Systems of Care: Serving Young Children and their Families," and Richard Davidson, professor of Old Testament, closed the evening by presenting his research on "Sexuality, Sabbath, Spirituality, and Spirit: Stimulating Research in the Hebrew Scriptures."