New Manager of Howard Center
Top Headlines
Date:
November 3, 2011
Contact:
hpac@andrews.edu
Website:
http://www.howard.andrews.edu/
Phone: 269-471-3560
A familiar face is taking over leadership at the Howard Performing Arts Center. Erica Slikkers, who has served as assistant manager at the Howard since January of 2008, is the new manager. She assumes the role following the departure of Debbie Weithers, who is now serving as a senior development officer in the Andrews University Office of Development.
"Erica is highly qualified to be the new manager for the Howard Center, and we are thrilled that she has accepted this challenge," says Dave Faehner, vice president for University Advancement at Andrews University.
While a student at Andrews University, Slikkers worked at the Howard Performing Arts Center first as a marketing and communication assistant from August 2003 to May 2006 and later as a contract writer during the 2006–07 season. Upon graduation in 2006 with a Bachelor of Arts in public relations with a minor in music from Andrews University, she took a job in finance and freight claims for USF Holland. When the assistant manager position at the Howard Performing Arts Center opened up in late 2007, Slikkers applied and was hired as assistant manager in January 2008.
As the assistant manager for the past three years, Slikkers has held a wide range of responsibilities in the areas of event coordination, marketing, promotions and management. She also directly oversaw management of the 70-person volunteer team that serves as ushers for Howard Center events.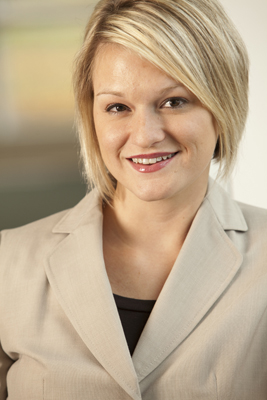 "I'm very excited about this next step in my career," says Slikkers. "I've worked so closely with Debbie Weithers for the past three and a half years and feel well-prepared to continue the excellence she has created and nurtured at the Howard. It's such a privilege to bring high profile artists and great music to Andrews University and Berrien Springs."
Her passion for music extends beyond her role at the Howard. Slikkers is a classically trained violinist of 17 years who loves to teach. In 2008, she worked as a violin instructor for the Dance & Music Asylum in Saugatuck, Mich., where she instructed students from beginner to intermediate. The southwest Michigan commute, particularly during the inclement winter months, proved challenging so in May 2008, Slikkers opened a private violin studio based out of Berrien Springs. She currently instructs eight students from intermediate to beginner.
Originally from Holland, Mich., Slikkers currently resides in Baroda, Mich. A true southwest Michigander, she counts Lake Michigan as one of her favorite things. She also loves biking, running and reading.