JWL Receives Grant
Top Headlines
Date:
November 14, 2011
Contact:
Website:
Phone:
Staff at the James White Library of Andrews University were elated to be selected by the International Society for Science and Religion (ISSR) to receive a rigorously peer-reviewed selection of major science and religion works. To showcase this prestigious collection, the James White Library is working to catalog the new materials and make them available for use. Valued in excess of $10,000, the compilation includes 224 hardcover volumes, representing the intersection of religion and science with titles such as "Back to Darwin" and "God in Creation."
Faculty members Gary Burdick, assistant dean for graduate programs and research professor of physics, Tom Goodwin, professor of paleobiology, and Karen Abrahamson, a PhD candidate at the Seminary, and Tom Pittman of the Office of Development contributed to the grant proposal written by Terry Robertson, Seminary librarian.
The purpose of ISSR's grants is to make available to students and faculty the resources necessary to improve upon a foundational knowledge of the relationship between religion and science, and to enable those who make use of the highly informative collection to conduct more thorough and developed research.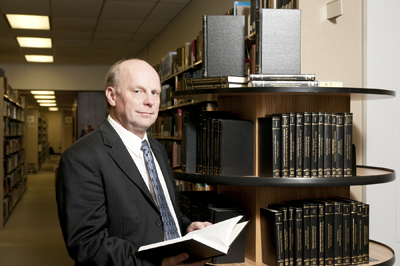 Terry Robertson, Seminary librarian, stands with the new collection of 224
hardcover volumes representing the intersection of science and religion.
(Photo by IMC photographer Darren Heslop)
Robertson observes, "The collection covers a broad spectrum of topics where religion and science intersect, from origins to philosophy to spirituality, and also from the perspectives of different religions." The intention of the grant is not limited to simply adding more books, but to encourage interest in the content, perhaps leading to new discoveries and contributions.
The ISSR Library Project considers several aspects when selecting an institution eligible to be awarded a particular library collection. The criteria involves issues such as whether or not an institution is prepared to display the complete granted collection in a pronounced area for a given amount of time, and to what extent an institution provides academic situations that would benefit from additional material. Also taken into consideration is the likelihood of the granted material to receive a substantial amount of usage by students and faculty.