New Issue of Envision Magazine
Top Headlines
Date:
February 6, 2012
Contact:
dmichel@andrews.edu
Website:
Phone:
The third issue of Envision magazine will be officially launched on Feb. 16, 2012 from 12:30-3:30 p.m. in the Campus Center. Written and designed entirely by Andrews University students from a range of different departments, this collegiate lifestyle magazine includes a variety of articles, including testimonies from students Natasha Cruz, Vikram Panchal, and Tammi Lindsey.
"We also trace the hand of God as He brought Keren and Casey Graves together in holy matrimony," says Debbie Michel, editor-in-chief of Envision and associate professor of communication. "Plus we have money-saving tips such as how to plan a wedding on a tight budget, eat a healthy meal using 'dollar-store' ingredients, and on ways to cut your next textbook bill."
Envision magazine offers a unique opportunity for students from such a variety of classes as Advanced Studio Photography, Editorial Design, Digital Vector Graphics, and Marriage, Family and Interpersonal Relationship Skills to work together and create something for their community.
"It was very stimulating for us all," says David Sedlacek, professor of social work, whose Marriage, Family, and Interpersonal Relationship Skills class provided content for the magazine.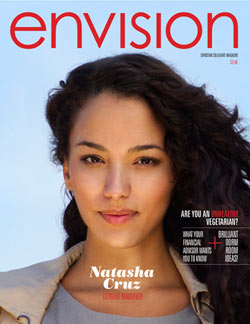 Working on the publication also gave students practical experience and opportunity to apply what they learn in the classroom. "The students had to deal with all of the joys and frustrations that come with putting together a magazine in a very limited time and on a very limited budget," says Diane Myers, assistant professor of graphic design, of her Editorial Design students' experience working on the layout and design for Envision. "Taking this on as a project has helped them to understand not only how to organize, design, and layout an entire magazine from scratch, but gave them actual skills they will be able to apply in their future careers."
Students who worked on the magazine found it an equally enriching experience. Tiffany Evering, who served as a fashion stylist for many of the photo shoots, says, "Working on Envision was an answer to a prayer for me. I love fashion and design, so this was an opportunity I did not expect and dearly appreciated."
A prolific writer for Envision, Lavern Ramdatt also found the experience very rewarding. "The stages my stories went through were endless but rewarding to my professional development and I am very thankful for the opportunity to be a part of this grand endeavor," she says. "I believe that the articles will bring encouragement and hope to the students as to their God-given purpose and callings."
Envision will be available on campus at the Gazebo and the Andrews Bookstore. Off-campus you can pick up a copy at Apple Valley or Harding's Friendly Market in Berrien Springs, Mich. An online format of the magazine as an app or a book is in development and will be available when the next issue is released sometime this spring/summer.
To learn more about Envision and how you can be involved in the next issue, contact Debbie Michel at dmichel@andrews.edu.