2012 Faculty-Staff Awards Presented
Top Headlines
Date:
March 7, 2012
Contact:
pr@andrews.edu
Website:
Phone:
The annual Faculty/Staff awards night, "Celebrating Excellence at Andrews University," was held Sunday, March 4 at the Howard Performing Arts Center. Each year at this event faculty and staff are given recognition through the Years-of-Service Awards, Excellence in Service Awards, Spiritual Life Award, the Daniel A. Augsburger Excellence in Teaching Award and the Siegfried H. Horn Excellence in Research and Creative Scholarship Award.
Alayne Thorpe, dean of the School of Distance Education, served as the emcee for the night. "You may be surprised to see me up here because I'm a newbie," Thorpe said. "But that's indicative of how welcoming Andrews is." She then gave special note to the Years of Service awardees in the 5, 10, 15, 20 and 25 year categories who, together, have served dedicated a total of 1,250 years of service to Andrews University.
This year's entertainment was the Golden Cardinal Awards, a humorous award that highlighted an aspect of the culture at Andrews University. These awards were purely for entertainment purposes. The eight different Golden Cardinal Award categories were: "Best Excuse for Not Attending Awards Event," "Best Budget Reduction Idea," "Best New Research Proposal," "Best Dave in a Hairnet," "Best Transitional Office," "Best Name for Griggs/Andrews integration," and "Best Snow Removal Device." For example, the nominees for "Best Budget Reduction Idea" included: Air Andrews for corporate travel needs; trading iPads for slates and chalk in Cabinet meetings; installing cans with string to replace traditional phones in Financial Records; use of felts to teach graphic design courses; supplementing the toilet paper supply with old magazines and bulletins; and becoming a Mac computer campus to eradicate the repair costs associated with PC's. The award in this particular category went to the Andrews Airpark for the Air Andrews travel solution.
Dining Services catered a hor d'oeuvres buffet with an Italian themed menu including house-made bruschetta, breaded cheese ravioli and Sicilian pizza squares. A dessert buffet was available after the program and offered guests Italian gelato, mini-cheesecakes, mousse in chocolate cups and a tower of fresh fruit.
Siegfried H. Horn Excellence in Research and Creative Scholarship Award
This award was established in 2011 to honor Siegfried Horn's legacy of scholarship and contribution to the field of biblical archaeology at Andrews University, and his impact upon the world church and the wider community of scholars. This award has been established to recognize the lifetime scholarship achievement of Andrews University faculty members. The chair of the Scholarly Research Council accepts nominations in four separate categories: Arts, Humanities and Education; Pure and Applied Sciences; Professional Programs; and Religion and Theology. Award recipients, who must be associate or full professors and full-time employees for a minimum of five years, were selected by the membership of the Scholarly Research Council.
This year's recipients were: Steve Hansen, professor of art, College of Arts & Sciences for the area of Arts, Humanities & Education; Duane McBride, research professor of sociology and chair of the Department of Behavioral Sciences, College of Arts & Sciences for the area of Professional Programs; Jiri Moskala, professor of Old Testament Exegesis and Theology, Seventh-day Adventist Theological Seminary for the area of Religion & Theology; and Curtis VanderWaal, research professor of social work and chair of the Department of Social Work for the area of Pure and Applied Science.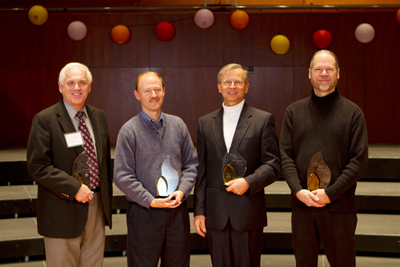 L-R: Duane McBride, Curt VanderWaal, Jiri Moskala and Steve Hansen
Staff Excellence in Service Award
The recipients of this award are hourly or salaried full- or part-time staff who have served for at least three consecutive years, and have not previously received the award. The award is given in recognition of outstanding service to the University, the church, and the community, and for demonstrating, by precept and example, a Christ-centered life. This year's recipients were Marvin Budd, database administrator, ITS; Mimi Weithers-Bruce, assistant to the provost, Office of the Provost; and Dean Snow, manager, Custodial Services.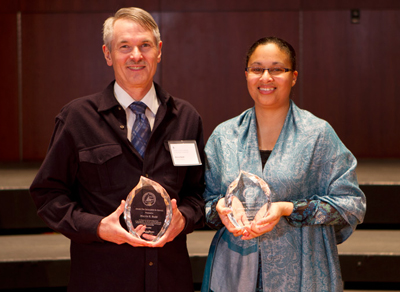 L-R: Marvin Budd and Mimi Weithers-Bruce. Not pictured: Dean Snow
Daniel A. Augsburger Excellence in Teaching Award
Eight faculty members received the Daniel A. Augsburger Excellence in Teaching Award. This award recognizes faculty whose teaching reflects the high standards of excellence modeled by Daniel A. Augsburger in his 60 years of teaching at Andrews University. Augsburger's leadership, academic rigor, breadth of knowledge, teacher-scholar role, along with care and concern for students, exemplify the best of faculty endeavors. Faculty from each school nominate and choose their individual candidates. This year's recipients were: Rudi Bailey, professor of educational psychology, school psychology & special education, School of Education; Bruce Bauer, professor of world mission, Seventh-day Adventist Theological Seminary; José Goris, professor of management, School of Business Administration; Herbert Helm, professor of psychology, College of Arts & Sciences; Marcia Kilsby, associate professor of medical laboratory sciences, College of Arts & Sciences; Glenn Russell, assistant professor of religion, College of Arts & Sciences; Martin Smith, assistant professor of architecture, School of Architecture, Art & Design; and Tiffany Summerscales, assistant professor of physics, College of Arts & Sciences.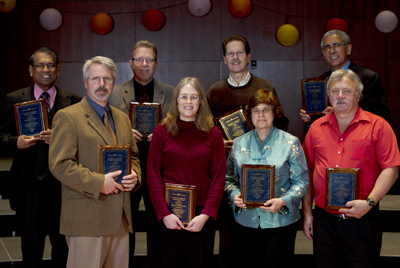 Front row, L-R: Martin Smith, Tiffany Summerscales, Marcia Kilsby, Herb Helm
Back row, L-R: Rudi Bailey, Glenn Russell, Bruce Bauer, José Goris
Spiritual Life Award
This award is bestowed upon any employee, faculty or staff, who has made a significant contribution to the spiritual life of campus. Names are considered and voted by the Spiritual Life Committee. This award was instituted in 2005. This year's honoree, Ante Jeroncic, assistant professor of theology, has been a member of the Andrews University faculty since 2006. His commitment to scholastic excellence encourages his students to emulate him. A student says, "Dr. Jeroncic is one of the most important influences on the formation of my spiritual and intellectual self. His challenge to students to investigate why they hold their beliefs significantly impacted my conversion to Christianity by showing the way to a Christ-centered hermeneutic without pushing me away. Intellectually, he expected me to achieve my full potential and expected nothing less. This helped me improve greatly as both a thinker and a believer."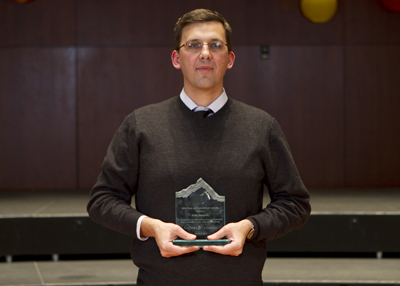 Ante Jeronic
35 Years of Service Award
Thomas Baker has taught languages, history, religion and English at Andrews Academy since 1976. In addition to his teaching, he has directed many school plays, and served as chair of the Academic Affairs Committee, where he has consistently elevated the expectations of a well-rounded education for Academy students. He has also taken numerous student groups on study tours to Europe. Baker graduated from the University of Minnesota with a BA and holds master's degree from Andrews University and Rice University in Houston, Texas.
Joseph Warren, associate professor of English, has taught at Andrews since 1976. Born in Greensboro, N.C., Warren graduated summa cum laude from Oakwood College in Huntsville, Ala. He earned both a master's and doctorate from Ohio State University where he concentrated in medieval, eighteenth century, American and ethnic literatures. He also completed training to be a certified trainer for the Developing Capable People Program founded by H. Stephen Glenn. He is active in mentoring African-American youth through his profession, in the local community and church community. He has been a passionate and creative leader in the University's commemoration of Martin Luther King Jr. Day.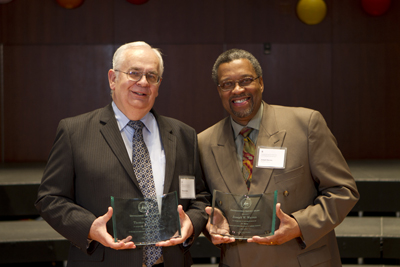 L-R: Thomas Baker, Joseph Warren
30 Years of Service Awards
Ruth Gardner is manager and postmaster of Central Mail Service at Andrews University. Ruth earned an associate's degree from Andrews in 1983 and started working at the post office in 1991. In a previous position on campus she worked as insurance clerk. Through her tenure at the Post Office and in insurance, Ruth has provided thorough, careful service to the entire campus. Ruth is known by her colleagues to expect hard work, but also adds a dash of fun to relieve the tedium of repetitive work. She and her husband, Richard, have put their four children through Adventist education, and instilled the same excellent work ethic in them.
Tari Popp graduated from Andrews University in 1981. She immediately began work as a Trust Accountant. She had previously worked in the Financial Services area as a student. So she's really finished 34 years of service to Andrews! She also worked as a Trust Officer and is presently director of the Office of Planned Giving & Trust Services. While other alumni have chosen to serve all over the world, Tari decided to put her roots down deep in Southwestern Michigan and contribute her talents and strengths to her alma mater. In her work with Trust Services, Tari has brought able leadership and stability, helping to give Andrews University a firm financial foundation for the future.
Jeane Robinson has served both Financial Administration and Plant Administration during her 30-year tenure at Andrews. She has a bachelor's degree from Union College and earned a master's degree at University of Colorado. Jeane's work has involved accounts receivable, firms ledger, and purchasing, through which she has assisted almost every department on campus in improving work spaces for employees and learning spaces for students. Most recently, Jeane coordinated the selection and purchasing of interior materials for the renovation of Nethery Hall and new spaces in Buller Hall.
Robert Schwab is professor of management, department chair and graduate advisor in the School of Business Administration. He earned a Bachelor of Arts from Atlantic Union College, a Master of Business Administration from Andrews University, and PhD from University of Oregon. He started his teaching career at Andrews and also chaired the Walla Walla University business department from 1985–93.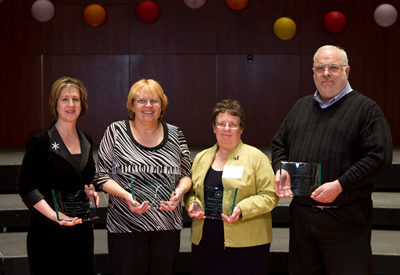 L-R: Tari Popp, Ruth Gardner, Jeane Robinson, Robert Schwab
The awards portion of the evening also included recognition of employees with 5, 10, 15, 20 and 25 years of service with the University.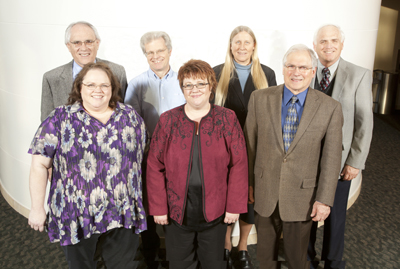 25 Years of Service
Front row, L–R: Nancy Miller, Loretta Nave, David Steen
Back row, L–R: John Baldwin, Allen Wellborn, Mari Aker, Duane McBride
Not pictured: Dennis Willis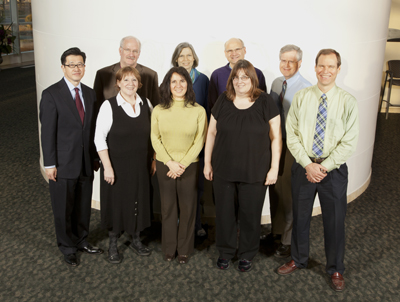 20 Years of Service
Front row, L–R: Richard Choi, Susan Zork, Carla Trynchuk,
Ann Marquez, Steve Nash
Back row, L–R: Stephen Zork, Dianne Staples, Robert Zdor, Jim Ford
Not pictured: Dianne Barnum, Terry Robertson, Shirley Freed, Larry Ulery,
Sharon Dudgeon, Gary Gray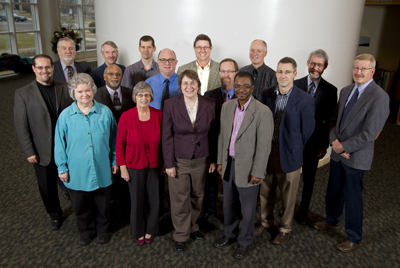 15 Years of Service
Front row, L–R: Leigh Everhart, Sylvia Gonzalez, Carletta Witzel,
Lionel Matthews
Middle row, L–R: Pedro Navia, Melchizedek Ponniah, Randy Graves,
Tom Lowing, Mark Moreno
Back row, L–R: Kurt Frey, Marvin Budd, Marc Ullom, Ron Whitehead, Bruce Wrenn,
Ken Logan, Stan Beikmann
Not pictured: Sari Butler, Michael Carpenter, Rod Church, Ricardo Norton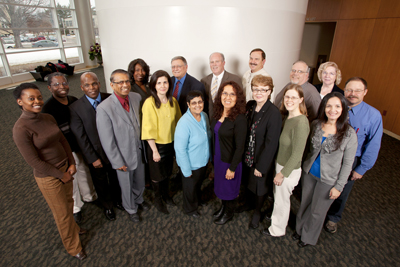 10 Years of Service
Front row, L–R: Marlene Murray-Nseula, David Mbungu, George Agoki,
Rudi Bailey, Alina Dumitrescu, Arlene Bailey, Willyta Wamack, Barbara Huset,
Katie Wolfer, Irlacy Rodrigues
Back row, L–R: Judith Fisher, Larry Onsager, Stephen Payne, Dan Agnetta,
Larry Bothe, Jeanette Bryson, Duane Habenicht
Not pictured: Maryann Burns, Jennifer Burrill, Shandelle Henson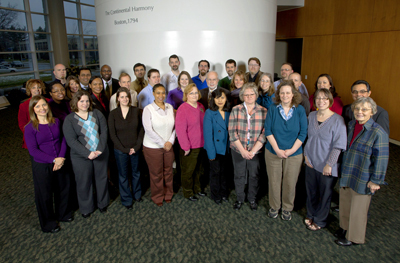 5 Years of Service
Front row, L-R: Kimberly Coleman, Amy Maydole, Brynja Davis, Natalie Johnson,
Bonnie Steele, Yeny Quea, Kathryn Hickerson, Suzanne White-Wein,
Laura Bowlby, Barbara Reid
Middle row, L-R: Cynthia Papendick, Faith-Ann McGarrell, Dalry Payne,
Kemmoree Duncombe, Robert Moore, Nathan Carroll, Lynette Quinty,
Lawrence Schalk, June Madrigal, Tiffany Summerscales, Tom Michaud,
Elaine Navia, Robson Marinho
Back row, L–R: Christian Lighthall, Ruben Munoz-Larrondo, Fares Magesa,
Ruben Perez-Shulz, Randal Mack, Theodore Quinty, Brian Manley, Jeffrey Smith,
Kevin Wein
Not pictured: Diana Adame, Glynis Bradfield, Buddy Chapman, Janet Chase,
Arnaldo Contreras, Donald De Groot, Japhet De Oliveira, Tevni Grajales Guerra,
Patricia Hinman, Bradly Hinman, Dwight Huslin, Ante Jeroncic, Robin Johnson,
Angelica Munoz, Anton Pellegrini, Christine Walker-Fraser, Michelle Wallis, Gary Wood