Battery Reclaim Program
Top Headlines
Date:
March 5, 2012
Contact:
cooktf@andrews.edu
Website:
Phone:
Andrews University values caring for the earth and participates in several recycling efforts that include keeping paper, aluminum cans, plastic bottles and electronics out of landfills. In February, battery recycling was added to that list. Todd Cook, a Master's of Social Work student at Andrews University, and a retired chief petty officer and military veteran, is spearheading a battery recycling initiative on campus.

Ever since Cook visited a landfill and saw batteries and other contaminants leaking into the soil, he has been passionate about the subject of recycling. "It was very humbling," he says.

Cook purchased nine containers out of his own funds to get the Battery Reclaim Program launched. He painted each one bright green and placed the containers in the Administration Building, the Seminary, Meier Hall, the Department of Social Work lounge in Nethery Hall, Plant Service, the Andrews Bookstore, Lamson Hall and the James White Library.

"Batteries are a serious problem in landfills because some of the chemicals they contain (such as nickel and cadmium) are toxic and can pollute the soil and water they come in contact with," says Cook. "As Christians we should not only set the example of good faith, strong values, and high integrity and standards, but also should promote and advocate for the Planet Earth and future generations."

Andrews University takes part in the Environmental Protection Agency (EPA) Peer Audit Initiative and even served as a test site for the Peer Audit training. Paul Elder, manager of Plant Service, is committed to ensuring Andrews is in full compliance with all EPA regulations. Elder and Ben Panigot from the Office of Campus Safety are developing an Environmental Management System (EMS) for campus that will promote continual compliance to all EPA regulations.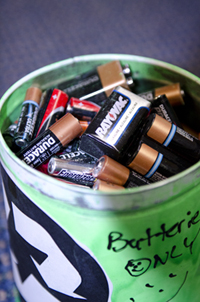 "Part of the EMS includes promoting best practice guidelines for continual environmental improvements throughout campus," says Elder. "When Todd gave me the battery recycling proposal, it was clear to see this was in line with the EMS we are developing. I appreciate his initiative in making Andrews a more environmentally friendly campus."

Currently, Cook is running the program alone, however he is seeking dedicated volunteers to assist with the program. Presently, Cook collects the batteries once every two weeks or more as needed and drop them off at a battery recycling collection site, such as Lowe's or RadioShack. The types of batteries accepted for recycling are AA, AAA, AAAA, 6V, 9V, C, D, watch, hearing aid, and rechargeable batteries, including those used in hand tools.

For more information or to volunteer to help, contact Todd Cook at cooktf@andrews.edu or 701-630-4142.
-Written by Ashley Meyer, student news writer, Office of Integrated Marketing & Communication