Ernie Haase & Signature Sound
Top Headlines
Date:
March 1, 2012
Contact:
hpac@andrews.edu
Website:
http://howard.andrews.edu/
Phone: 269-471-3560
Ernie Haase & Signature Sound is a Grammy-nominated, Dove Award-winning gospel music group with both gold and platinum recordings. Their Cathedrals-Influenced Tour will appear at the Howard Performing Arts Center on the campus of Andrews University on
Saturday, March 10, at 8 p.m.

With 14 albums to their credit, the group combines contemporary ideas with traditional gospel sounds from the 1950s to create "an unconventional approach to joyfully communicating God's Word."
Each of the four members wanted to "sing for Jesus," as Ernie says, since they were children, and several were discovered at an early age and sang with Southern Gospel groups. Ernie sang with his favorite quartet, The Cathedrals, before marrying the daughter of the Cathedrals' bass singer, Lisa Younce. Doug Anderson, an all-state basketball player in high school, sang with the quartet Lighthouse before joining Signature Sound. Ian Owens began singing at the age of 19 with the Cumberland Boys Quartet out of the Bransonís Silver Dollar City theme park, and was later hired as the only second bass for The Imperials. He is also a licensed minister. Devin McGlamery, the newest member of Signature Sound, joined the group as lead singer in 2009. Previously, he was lead singer and tenor for the Southern Gospel group Karen Peck & New River. Before that, he toured with the Dixie Melody Boys.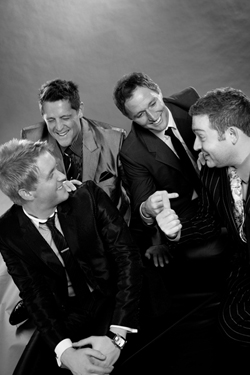 The group has become one of the most influential forces in Southern Gospel music. Long after their first album topped several charts, Signature Sound won Gospel Music Association Dove Awards for Recorded Song of the Year and Album of the Year. Although awards abound, Signature Sound counts as its most rewarding achievement is the new generation of gospel listeners across the world.
Tickets for Ernie Haase and Signature Sound can be purchased by calling the Howard Performing Arts Center box office at 269-471-3560 or 888-467-6442. Tickets for reserved seating are $25, faculty and staff tickets are $20 and Andrews University student tickets are $10. Special rates apply for groups and Flex Series tickets. Learn more by visiting
www.howard.andrews.edu
.