48th Annual International Food Fair
Top Headlines
Date:
March 19, 2012
Contact:
iss@andrews.edu
Website:
Phone: 269-471-6395
Welcome spring with a taste of something different and exciting by delighting your senses with the colors, smells, and sounds of the 48th annual International Food Fair at Andrews University. The annual event will be held in the Johnson Gym on Sunday, April 1, from noon to 7 p.m. The event is free and open to the public. Food tickets will be available for sale at the door.
If winter has been making you long for new sights and exotic places, the International Food Fair is your opportunity to get a taste of world diversity without having to call the travel agent. More than 20 international clubs at Andrews participate in the fair every year, offering authentic tastes of Mexico, Korea, Japan, Brazil, and the Philippines, among others. Guests can make a meal of one cuisine or gather a little something from each ethnically decorated booth.
Hungry guests can sip bubble tea while choosing from a variety of vegetarian entrees including Samosas (potatoes, onions, and peas flavored with the spices of Southeast Asia and stuffed into a flaky pastry shell) Indian chapati, pansit, and the traditional rice, noodles and eggrolls. If you're looking for American fare, corndogs, pizza and some cotton candy are certain to satisfy. Brazilian fudge candy, chocolate covered strawberries, and numerous other pastries and cakes from a range of cultures offer a sweet finish to the meal.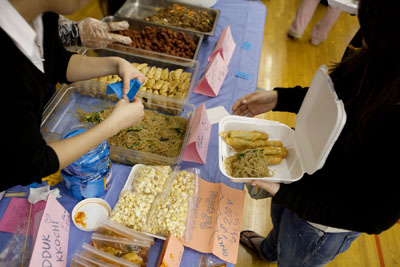 The International Food Fair has been a tradition celebrating the diversity of Andrews since 1964. Nearly 5,000 people attend the event every year, raising around $30,000 annually for the participating clubs. Admission to the event is free. Tickets to purchase food can be bought at Johnson Gym upon arrival. Tickets are sold in increments of 50 cents, with food prices ranging from 5o cents to $6. Students can charge the cost of tickets to their Dining Services accounts. For more information, contact the Office of International Student Services at 269-471-6395.