Commencement 2012
Top Headlines
Date:
April 26, 2012
Contact:
pr@andrews.edu
Website:
http://www.andrews.edu/graduation/
Phone:
G.T. Ng, executive secretary of the General Conference of Seventh-day Adventists, and Don Jernigan, president of Adventist Health System, are among the featured speakers at the commencement events from May 4–6, 2012. The weekend will honor the accomplishments of one of the largest undergraduate classes in recent history with 330 seniors. At Commencement, two individuals, Leona Running and Ismael Castillo Osuna, will also be receiving honorary degrees. The full schedule of events is at
www.andrews.edu/graduation
.
Commencement festivities will begin Friday evening with the Consecration service in the Pioneer Memorial Church and will continue with the baccalaureate church service, Sabbath afternoon certification and dedication services, Sabbath vespers, the President's Reception and finally, the much-anticipated graduate and undergraduate commencement services on Sunday morning.
Hyveth Williams, professor of Christian Ministry in the Seventh-day Adventist Theological Seminary, will give the address at Consecration, "How to Live With What You Can't Fix," on May 4 at 8 p.m. in Pioneer Memorial Church. On May 5, G.T. Ng will present his Baccalaureate address, "Downward Mobility," at the graduate service at 8:15 a.m. and the undergraduate service at 11:20 a.m.
A number of departmental services are planned throughout the weekend, beginning with the Teacher Dedication service on Friday, May 4, at 5 p.m. in the Andrews Academy Chapel. Saturday evening's events include the Department of Nursing Pinning at 4 p.m. in Pioneer Memorial Church, the Seminary Dedication Service at 4 p.m. in the Seminary Chapel, the Department of Religion & Biblical Languages Senior Dedication in Newbold Auditorium, Buller Hall, at 4 p.m., the Department of Nutrition & Wellness Dedication Service and Reception in the PMC Commons at 5 p.m., an open house for architecture graduates at 6 p.m. in the Architecture Resource Center, and the Department of Social Work Recognition Service at 6 p.m. in the Burman Hall Auditorium.
At 8:30 p.m. on Saturday, May 5, a Sabbath vespers service will take place in Pioneer Memorial Church, immediately followed by the President's Reception for graduating students and their parents at 9:15 p.m. in the Great Lakes Room, Campus Center.
Featured Speakers

Don Jernigan, president of Adventist Health System, will speak at both the graduate and undergraduate commencement services at 8:30 and 11:30 a.m., respectively. Jernigan's address to the graduates is titled, "The Life Worthy."
Jernigan is president and chief executive officer of Adventist Health System, the largest Protestant not-for-profit healthcare system in the United States. Prior to his 2006 appointment to his current position, Jernigan served as president/CEO of Florida Hospital in Orlando since 1999 and had served Adventist Health System as its executive vice president since 1992. He has also served as president of two other Adventist Health System hospitals, including Tennessee Christian Medical Center in Nashville, Tenn. (1987–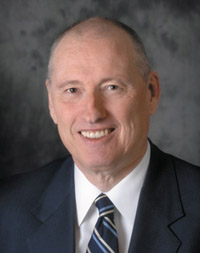 Don Jernigan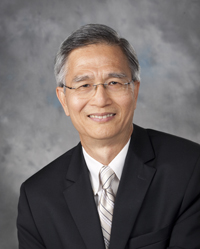 G.T. Ng
1992), and Metroplex Hospital in Killeen, Texas (1983–1985). Jernigan holds a Bachelor of Science in chemistry from the University of Texas-Arlington and a PhD in physical chemistry from Baylor University. He has served in higher education in the positions of professor, chemistry department chairman, vice president for academic affairs and executive vice president. Jernigan also served on active duty as an officer in the United States Navy.
G.T. Ng is the executive secretary of the General Conference, a position he has held since the 2010 General Conference Session. Previously, Ng worked as an associate secretary for the world church, where he oversaw the church's Northern Asia-Pacific, Southern Asia and Trans-European divisions. Ng's denominational service began in the 1970s in Cambodia, where ministry in the war-torn country first kindled his enthusiasm for mission. Shortly before Phnom Penh fell to Khmer Rouge forces, Ng and his wife, Ivy, were evacuated from Cambodia. Later, Ng served in Thailand, Malaysia and his native Singapore, where he held several positions, including pastor, health educator and regional department director. For much of the 1990s, Ng served as professor and dean of the Theological Seminary in the Adventist International Institute of Advanced Studies (AIIAS) in the Philippines. In 2000, Ng became the executive secretary of the church's Southern Asia-Pacific Division, a position he held until 2006.The following year Ng moved to the Washington, D.C. area to serve as a world church associate secretary at the General Conference of Seventh-day Adventists. Ng holds a bachelor's degree from Southeast Asia Union College in Singapore; a master's degree from the Adventist Theological Seminary in the Philippines and a PhD from the Seventh-day Adventist Theological Seminary at Andrews University in Berrien Springs, Mich.
Honorary Degree Recipients

Leona Running and Ismael Castillo Osuna will be receiving honorary degrees at the commencement services. Leona Running, professor of Biblical languages, emeritus, will receive the Doctor of Humane Letters for her work promoting women in academia and in the ministry. Running graduated from Emmanuel Missionary College in 1937 with a bachelor's degree. She went on to earn a Master's in Greek and Hebrew from the Seventh-day Adventist Theological Seminary in 1955, and a PhD in Semitic languages from Johns Hopkins University in 1964. When the Seminary was moved from Washington, D.C., to Berrien Springs in 1960, Running came with it, continuing on as a valuable and dedicated professor of biblical languages. At the time, the president of the Seminary was skeptical about a woman's ability to teach male students, and male students' willingness to be taught by a woman. She began teaching on a trial basis, but in 1956 she was granted regular status with tenure. Not content to sit on the sidelines and watch her students, Running was actively involved in their professional and personal development, and her guidance helped countless souls find their voice. Running's strength and determination during a time when women were not always treated as equals with men, even within the church, were an inspiration to many.
Ismael Castillo Osuna, president of Montemorelos University in Nuevo Leon, Mexico, will receive the Doctor of Pedagogy for his influence on developing Adventist education. Castillo grew up in the Adventist educational system and earned a teacher education degree from Montemorelos Normal School, a Bachelor of Theology from Montemorelos University, and a Master of Arts in Religion from Andrews University. He worked as a district pastor in Mexico City in 1973, but soon recognized the importance of Adventist education and chose to commit his life to it. He became principal of Linda Vista Academy (now Linda Vista University) in Chiapas, Mexico, in 1978, and vice president for Student Services at Montemorelos University in 1985, before becoming president of the university in 1987. Under Castillo's guidance, Montemorelos University has grown from offering only bachelors' degrees to providing doctoral programs in a variety of subjects. Castillo has worked to internationalize Montemorelos University and has played a major role in accreditation efforts for the Adventist educational system. He has served as a member of numerous national accreditation groups. More significantly, Castillo has promoted programs to help students in financial need complete their education without loans or debt through the means of self-financing models.
Live streaming of Commencement is available via
www.andrews.edu/graduation
. The graduate Commencement service begins at 8:30 a.m. (EST) followed by the undergraduate service at 11:30 a.m. (EST).