Andrews Sponsors Public Art Display
Top Headlines
Date:
May 21, 2012
Contact:
pr@andrews.edu
Website:
http://www.stjosephpublicart.com
Phone:
This year, summertime visitors to St. Joseph, Mich., will discover a treasure trove of art dotting the streets of the downtown area, including one particularly diverse sculpture, courtesy of Andrews University. On Friday, May 18, the city of St. Joseph hosted an unveiling of this year's public art display, "Beached Pirates Arrrt in St. Joseph" featuring a total of 27 sculptures including sea turtles, pelicans, sea horses, pirates and treasure chests.
Located on Broad Street in between State Street and Lake Boulevard stands a dolphin, titled, "Swimming in a Sea of Diversity" by artist Nicholas J. Jones and sponsored by Andrews University. Jones is an Andrews alum and a current staff member in the Andrews University Bookstore.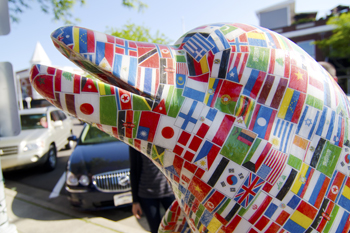 This is the first year Andrews has sponsored a sculpture for this public art project. "When we approached Nick to take on the project, our only request was that the finished art piece give a nod to our international diversity," says Keri Suarez, media relations specialist for the Office of Integrated Marketing & Communication. "We were incredibly pleased with his finished piece."
In February of this year, the city of St. Joseph provided Jones with the white fiberglass dolphin. From there, Jones got to work. He chose flags as a theme and collage was his method. It took Jones approximately 75–80 hours and about 3,500 flag stickers to collage the dolphin. From there, he gave it several layers of protective coating to protect the piece from the elements.
"I've made dozens of collages in my life, but always flat, to be hung on a wall. I had to really reconsider some of my methods and adopt some different aspects to how I work," says Jones. "I learned a lot in the process, though, and would enjoy covering large things with thousands of stickers more in the future...maybe a building?"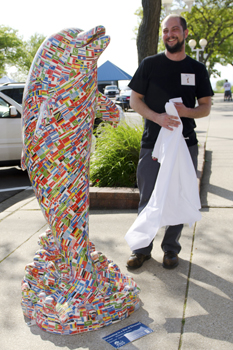 Nicholas Jones pulls the cover off of his piece at
the unveiling ceremony on Friday, May 18.
(Photo by IMC photographer Darren Heslop)
"At the unveiling, it was a lot of fun to watch folks come up to the sculpture and immediately start searching for their native flag. It provides a level of interaction between the person and sculpture," says Suarez.
Jones holds a Bachelor of Fine Arts from Andrews University and a Master of Fine Arts from Wayne State University in Detroit, Mich. His artwork primarily focuses on the act of repetitive mark making and the slight imperfections of hand drawn patterns. He has been included in numerous shows in Michigan and around the Midwest, as well as Oregon and Washington.

"Beached Pirates Arrrt in St. Joseph" will remain on display through Oct. 1, 2012. For more information about the display, as well as a map of where the sculptures are located, visit www.stjosephpublicart.com.