Spring Commencement 2012
Top Headlines
Date:
May 17, 2012
Contact:
pr@andrews.edu
Website:
Phone:
One of the largest undergraduate classes in recent history marched in the spring 2012 Andrews University Commencement held Sunday, May 6, 2012. Two services were held, one at 8:30 a.m. for 176 participating graduate students and a second at 11:30 a.m. for the 341 participating undergraduate students. In addition, a small delegation of graduate students from Vietnam, representing a larger class of graduates receiving their Master of Business Administration degrees in Vietnam, were in attendance to receive their degrees from Griggs University, owned by Andrews University and operated through its School of Distance Education.
As the large undergraduate class made their way into PMC, faculty marched into overflow seating, rather than take their traditional place in the main sanctuary. This unusual arrangement freed up additional seats on the platform, where the faculty are usually seated, to enable each graduate's family to have four or, in some cases, five tickets each.
Commencement events began at the Friday evening Consecration service with Hyveth Williams, professor of Christian ministry at the Seventh-day Adventist Theological Seminary, presenting, "How To Live With What You Can't Fix."
"Our destination is heaven, and our focal point is Jesus! Remember all the way our Savior leads us...Focus your faith on Jesus, Focus your faith on Jesus, Focus your faith on Jesus and God will bless!" said Williams.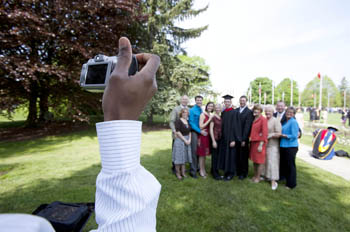 The beautiful weather on Commencement Sunday provided a great
opportunity for picturesque photos. (Photo by IMC photographer
Darren Heslop)
Sabbath morning, G.T. Ng, executive secretary of the General Conference of Seventh-day Adventists, offered the Baccalaureate address, "Downward Mobility."
Don Jernigan, president and chief executive officer of Adventist Health System, the largest Protestant not-for-profit healthcare system in the United States, was the featured speaker for both the graduate and undergraduate commencement services. Jernigan's address to the graduates was titled, "The Life Worthy."
"You will never be happy until you find someone bigger than yourself, someone outside of yourself to whom you can commit yourself," said Jernigan. "The one thing I will tell you from experience, I believe for human beings, that the enemy of righteousness and commitment is apathy and boredom. Watch yourself five, ten years from now. If you find yourself bored and apathetic, ask yourself, 'What's my calling?'"
Honorary Degrees Awarded
During Commencement services on Sunday, May 6, two individuals were honored with honorary doctorates: Leona Running and Ismael Castillo Osuna.
Leona Running, professor of Biblical languages, emeritus, received an honorary Doctor of Humane Letters for her commitment to the spiritual and educational development of her students, her outstanding global contributions to the Adventist Church and its message, and her groundbreaking influence on the involvement of women in academia and the ministry. Running is known for her lifelong love of languages and her amazing ability not only to understand and master different tongues, but also to teach others to develop the same passion for languages. Professionally trained in both modern and biblical languages, Running has also long championed the rights of women who strive to minister in a traditionally male-dominated field. She has been a longtime advocate for women in academia and theology, and her work and dedication have inspired many men and women around the world.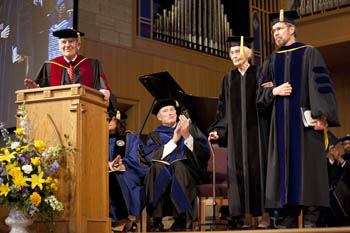 Leona Running, professor of Biblical languages, emeritus, received an
honorary Doctor of Humane Letters for her work promoting women in
academia and in the ministry. (Photo by IMC photographer Darren
Heslop)
Running graduated from Andrews University (then Emmanuel Missionary College) in 1937 with a bachelor's degree. She went on to earn an MA in Greek and Hebrew from the Adventist Theological Seminary in 1955, and a PhD in Semitic languages from Johns Hopkins University in 1964. When the Seminary was moved from Washington, D.C., to Berrien Springs in 1960, Running came with it, continuing on as a valuable and dedicated professor of biblical languages.
During her early professional years, Running served the Seventh-day Adventist Church in many capacities. From 1944–48 she worked in the Foreign Language Division of the radio program Voice of Prophecy, translating programs and typing scripts in German, Spanish and Portuguese. In 1950 she moved to Washington, D.C., to become the copy editor for Ministry magazine. During these early years, Running often earned far less than her male counterparts for doing the same amount of work. Nevertheless, she continued to do God's work, traveling to many European countries, promoting the Seventh-day Adventist Church and, at the same time, expanding her cultural experience.
Running began working for the Seventh-day Adventist Theological Seminary in 1955, teaching Greek and Hebrew. At the time, the president of the seminary was skeptical about a woman's ability to teach male students, and male students' willingness to be taught by a woman. She began teaching on a trial basis, but in 1956 she was granted regular status with tenure. Not content to sit on the sidelines and watch her students, Running was actively involved in their professional and personal development, and her guidance helped countless souls find their voice. Running's strength and determination during a time when women were not always treated as equals with men, even within the church, were an inspiration to many.
Ismael Castillo Osuna, president of Montemorelos University in Nuevo Leon, Mexico, received an honorary Doctor of Pedagogy for his continued investments in the Seventh-day Adventist educational system, for his efforts to help needy students afford the costs of higher education, and for his dedication to his community.
Born to parents who were both teachers in Sinaloa, Mexico, it was unsurprising that Ismael Castillo chose to work in the field of education. What was exceptional was his commitment to developing Adventist higher education with a holistic curriculum founded on solid educational and biblical principles. As president of Montemorelos University in Montemorelos, Nuevo Leon, Mexico, Castillo has been uniquely influential in improving Adventist education.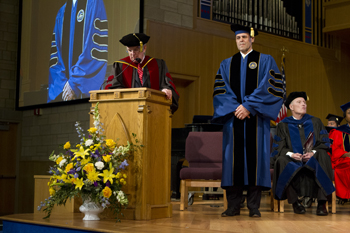 Ismael Castillo Osuna, president of Montemorelos University in
Nuevo Leon, Mexico. (Photo by IMC photographer Austin Ho)
Castillo's parents accepted the Seventh-day Adventist message when he was very young and were committed to ensuring that all 13 of their children received an Adventist education. Castillo earned a Teacher Education degree from Montemorelos Normal School, Bachelor of Theology from Montemorelos University, and Master of Arts in Religion from Andrews University. He became a district pastor in Mexico City in 1973, but soon recognized the importance of Adventist education and chose to commit his life to it. He became principal of Linda Vista Academy (now Linda Vista University) in Chiapas, Mexico, in 1978, and vice president for Student Services at Montemorelos University in 1985, before becoming president of the university in 1987. Under Castillo's guidance, Montemorelos University has grown from offering only bachelors' degrees to providing doctoral programs in a variety of subjects.
An active promoter of education, Castillo has worked to internationalize Montemorelos University and has played a major role in accreditation efforts for the Adventist educational system. He has served as a member of numerous national accreditation groups. More significantly, Castillo has promoted programs to help students in financial need complete their education without loans or debt through the means of self-financing models.
Castillo's efforts have not gone unnoticed. In 1995 he received a Doctor of Humanities, honoris causa, from Southwestern Adventist University, and in 2009 he received the General Conference Medallion of Distinction for "outstanding service and contributions to the Ministry of Christian Education." He has been honored with many other awards for his exceptional service. Castillo has chaired the Committee for Academic Exchange, and been a member of FIMPES (Federation of Private Institutions of Higher Education in Mexico), the Commission for Accreditation, and the Permanent Committee for Evaluation and Development of the Accreditation System.
Castillo is married to the former Norka Harper and together they have raised three children, all of whom serve the Seventh-day Adventist Church.