New Academic Dean Announced
Top Headlines
Date:
May 17, 2012
Contact:
rudatsikira@andrews.edu
Website:
Phone:
Emmanuel Rudatsikira has been appointed dean of the newly created School of Health Professions. This new school will include all of the health-related sciences: the Departments of Nursing, Physical Therapy, Medical Laboratory Sciences, Speech-Language Pathology & Audiology, and Nutrition & Wellness. Rudatsikira begins June 1, 2012. He will occupy an office suite in Harrigan Hall.
"Emmanuel Rudatsikira brings to Andrews University a successful and wide-ranging background in leadership in health professions education, as well as a significant history of research, much achieved through receipt of research grants," says Provost Andrea Luxton. "His professional focus is on service and he has engaged in many international projects to improve the quality of life through health awareness."
Rudatsikira earned a doctorate in public health epidemiology from Loma Linda University and his medical degree from Kinshasa University. He is a member of several professional societies including the American Public Health Association (APHA), the Delta Omega Honorary Society in Public Health, the Global Health Council, and the Adventist International Medical Society (AIMS).
Prior to accepting the position at Andrews, Rudatsikira was a tenured professor and chair of the School of Community and Environmental Health at Old Dominion University in Norfolk, Va. He has also served as a professor and program director at San Diego State University and Loma Linda University, developing several new programs and courses in tobacco control, emergency preparedness and response, and public and global health at both universities. He began his career as a physician in Burundi, Africa.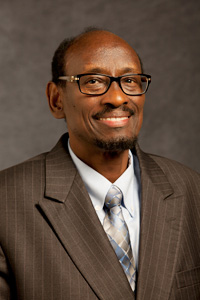 Emmanuel Rudatsikira
A devoted researcher, Rudatsikira has published 75 articles in peer-refereed journals. He has led and co-led several research projects funded by NIH Fogarty International Center, Health Resources and Services Administration, California Department of Public Health, American Academy of Pediatrics Julius B. Richmond, Association of Schools of Public Health and American Legacy Foundation. He is a recognized figure in the global health field, with particular experience in the areas of disaster management, preparedness for global emergencies, refugee health, violence prevention and tobacco control. He has conducted research in more than 30 countries in all six regions of the World Health Organization and given a variety of presentations both in the United States and internationally. He has also worked as an evaluator and consultant for programs including ADRA's Child Survival projects in Guinea, Zambia and Haiti.
Rudatsikira is actively involved in church and public service. He serves as public health specialty editor for WebMed Central Plus, associate editor for BioMed Central Public Health Journal, guest editor of the special issue on preparedness and emergency response in the International Journal of Environmental Research and Public Health, and site visitor for the Council on Education in Public Health. He is also a frequent contributor and reviewer for numerous peer-refereed journals, including the Academic Pediatric Journal, Clinical Practice and Epidemiology in Mental Health and the Risk Reduction Journal.