Lear Jet 23 Donated
Top Headlines
Date:
July 31, 2012
Contact:
airinfo@andrews.edu
Website:
Phone: 269-471-3120
The Andrews University Department of Aviation recently added a 1966 Lear Jet 23 to its fleet of training planes. Randall J. Latona of the AJM Airline Company in Smyrna, Tenn., donated the plane after receiving a request from Verlyn Benson, assistant to the president.
In need of an aircraft that would provide students with practical training on the more complex twin turbine engine-powered jet, the department used the FAA registry of business jets to send queries to see if any owners would be willing to donate an aircraft that would potentially fit their needs.
Several replies were received, including one from Latona. The 6–8 seat business jet was missing its engines and needed a few structural repairs, but was otherwise in good condition. A group was sent to collect the plane from its ramp in Smyrna and bring it back to Andrews University.
"Everyone who helped us retrieve the aircraft treated the Andrews' team of workers with great respect and helpfulness, commenting that the plane would be going to a good home where students will be able to learn more about the profession they all love," says Benson.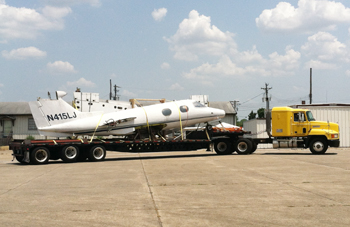 The plane will be used for both maintenance and ground instruction. Since the plane possesses advanced hydraulic, electrical, fuel, communication and navigation systems, it will be used to give students the opportunity to work directly with these features. Once engines are installed the aircraft will also be used for instruction in turbine engine installation, removal, servicing and component replacement. The plane requires two running GE CJ610-4 or -6 engines with accessories before it can be used for turbine operation instruction. Additionally, the plane will offer flight training for using turbine engines and the taxiing of larger aircraft.
"We truly appreciate the generosity of the individuals who have made donations to our department," says Dina Simmons, chair of the Department of Aviation and Airpark manager. "Currently, our greatest need is for financial donations which can be turned into tangible upgrades to costly class/lab training aids and aircraft. With the ongoing reality of budget limitations, we are always looking for creative options to attempt to meet our department's needs as we continue to grow."