Bookstore Aids ADRA
Top Headlines
Date:
October 5, 2012
Contact:
pr@andrews.edu
Website:
Phone:
The Andrews Bookstore has been recycling for a cause, turning old, outdated books into cash for a charity. On Friday, Sept. 21, 2012, staff from the Andrews Bookstore presented a $2,120 check to Adventist Development & Relief Agency (ADRA). The funds were collected from the bookstore's participation in the One Planet recycling program, run by MBS (Missouri Book Systems), a used book supplier.
For each box of old and outdated books the Andrews Bookstore sends to One Planet for recycling, they receive $10. This was the second donation the Andrews Bookstore has made to ADRA from funds raised through One Planet. Since they started recycling in 2010, the Andrews Bookstore has donated a cumulative total of $4,130 to ADRA.
"This is a great way to recycle books and not throw them away," says Cindy Swanson, Andrews University's textbook manager and bookstore manager for Griggs University & Griggs International Academy. "There is very little we have to do and we generate money for ADRA, which goes everywhere and helps everyone."
In addition to responding in emergency situations, ADRA provides aid for those lacking in basic needs such as food, water and sanitation. They also work to provide literacy training and offer financial assistance in establishing livelihoods.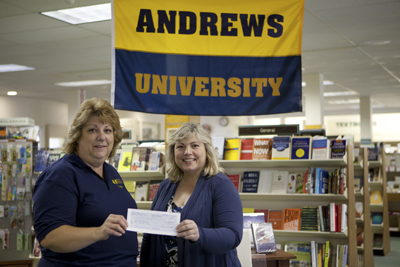 Cindy Swanson (left) of the Andrews Bookstore presented a check to Tina
Hudgins, a representative for ADRA. (Photo by IMC photographer Austin Ho)
"Donations that come into ADRA help alleviate poverty and suffering throughout the world," says Tina Hudgins, director of constituency development at ADRA and the representative who accepted the donation. "What makes ADRA different when it comes to relief is that we respond immediately, but then we stay behind to see what needs to happen to move them into development so they are not left alone and in trouble after the relief goods are done."
The Andrews Bookstore is always accepting books for recycling. They'll accept any old, outdated books, including outdated textbooks. Simply drop off your books for recycling at the Andrews Bookstore during regular business hours.