Student Wins First Place at Conference
Top Headlines
Date:
December 3, 2012
Contact:
pr@andrews.edu
Website:
Phone:
An Andrews University student in the J.N. Andrews Honors Program took home the first place award in her category from the National Collegiate Honors Council Conference held in Boston, Mass., in mid-November.
Samantha Snively, a senior English major, presented her senior Honors project research poster. It is titled, "'I account this world a tedious theatre': Foucauldian Theatricality and Female Subversion in Webster's The Duchess of Malfi." The poster won first place for Best Poster in the Arts & Humanities category. About 50 other Arts & Humanities posters also competed.
Snively was accompanied to the conference by L. Monique Pittman, director of the J.N. Andrews Honors Program, and fellow Honors program student Chrissy Lairson. Lairson, a senior English major, also presented at the conference. Her paper is titled, "Female Agency and the Critique of Social Conduct through Letters in Sense and Sensibility."
Both projects were done in fulfillment of senior requirements for the J.N. Andrews Honors Program. Pittman, associate professor of English and director of Honors, was the research advisor for both projects.
Using Michel Foucault's theory of the spectacle and a study of Renaissance antitheatricality pamphlets, Snively analyzed images of state power and violence in John Webster's The Duchess of Malfi, as well as the ways women in the play are able to undermine that power.
"Attending the conference was an incredible experience," Samantha says. "I'd like to thank the Department of English, the Office of Research & Creative Scholarship, and the J.N. Andrews Honors Program, who lent their financial support to enable us to attend the conference. It's so encouraging to know Andrews supports our efforts and scholarship!"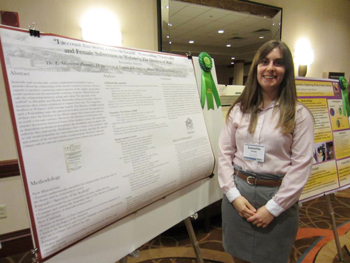 Samantha Snively presented her J.N. Andrews Honors Program research
project at the conference. The poster took first place in its category.
The J.N. Honors Program seeks to offer undergraduate students greater opportunities for intellectual, spiritual, and social development in an atmosphere that is both intellectually challenging and distinctively Christian.
The National Collegiate Honors Council is a professional association of undergraduate honors programs and colleges. Its mission is to assist these programs in maintaining a challenging and enriching curriculum and in providing opportunities for students and faculty to share their research and develop professional experience.