Introducing Gourmet To-Go
Top Headlines
Date:
February 20, 2013
Contact:
ds@andrews.edu
Website:
Phone: 269-471-3161
For a limited time, Andrews University's Office of Dining Services will be offering Gourmet To-Go, a scratch-made, family-style meal available for pick-up Friday afternoons. Designed to be a weekend meal solution, the cost per meal is $24.99. Each meal is designed to feed four. It includes a delicious vegetarian entrée coupled with a side item, salad with dressing, and a dessert or bread.
"We are located within a large Seventh-day Adventist community where we share the same Sabbath values. Gourmet To-Go is a great option to help families prepare adequately for the Sabbath," says Mark Daniels, general manager of Andrews University's Dining Services. "Shopping, preparing, cooking, and cleaning often fall by the wayside during a busy week. We can help by doing the work for you." Daniels also suggests Gourmet To-Go as a great solution for potlucks, shut-ins, gifting a meal to a low-income family, or entertaining guests.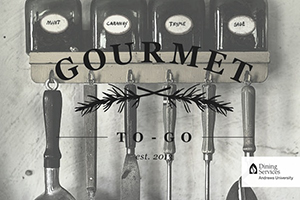 The concept of Gourmet To-Go is nothing new to Bon Appétit Restaurants. "Several of my colleagues have this program running already and it's widely popular," says Daniels. "We hope the same will be true here at Andrews and in Berrien Springs."
More than just a convenient solution for busy families, Gourmet To-Go aims to further share the value of healthy, made-from-scratch food with the wider Berrien Springs community. The FDA lists Berrien Springs as a "food desert," meaning there are limited fresh, healthy meal options available to the community. "This is a way for Andrews University, with the help of Bon Appétit Management Company, to be a part of the solution," says Daniels. "We make our food from scratch, using socially responsible practices, with health and nutrition in mind."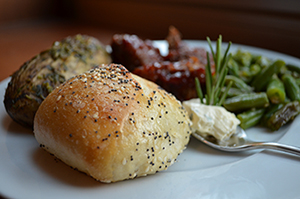 Each Friday, those who have signed up for the mailing list will receive a preview of the following week's Gourmet To-Go menu. Orders will be taken Monday–Wednesday at noon. Pick-up is Friday between noon and 5 p.m. at Dining Services, located in the Campus Center. Each meal will come with heating instructions and disposable containers, making heating and cleanup quick and easy. The weekly menu is set and there are no substitutions or alterations to the meal.
To sign up for the mailing list, call 269-471-3161 or email
ds@andrews.edu
.