PASS Established
Top Headlines
Date:
February 6, 2013
Contact:
dbhodges@andrews.edu
Website:
Phone:
As national debates intensify over how to effectively safeguard our educational institutions against future acts of violence, Professional Adventists for Safety and Security (PASS) is preparing for their third annual meeting, to be held in July 2013. PASS was organized in 2010 to bring together safety and security professionals serving at Seventh-day Adventist schools, hospitals and other institutions to discuss best practices, provide community resources, and maintain an Adventist network of security personal for the distribution of important information.
To date, there has been active involvement in PASS from campus security directors of Oakwood Adventist University, Southern Adventist University, Andrews University and Loma Linda University, and the directors of security at ADRA, the General Conference of Seventh-day Adventists, and the Review & Herald Publishing Association.
The Establishment of PASS
For years, there had been discussion of the need to establish an organization that would connect the various safety and security departments at Adventist institutions. Although there was an acknowledged need for communication between the different entities, attempts to form a professional network had never moved beyond preliminary stages.
When Dale Hodges became the director of Campus Safety at Andrews University, he was concerned about the negative perceptions that had developed between students and campus safety. The term "veggie cop," a slang term commonly used in Adventist settings to refer to safety or security professionals, was new to Hodges. As a retired homicide detective, Hodges wanted to repair any negative perceptions while building the professionalism of his office.
"It was my desire to establish standards of service and levels of professionalism that had not been seen before," he says, hoping such improvements would eliminate those negative perceptions. "When we raise the standards, everybody wins."
Hodges felt the best way to raise these standards, both at Andrews and other Adventist institutions, was to develop an organization to provide models and lists of best practices for safety and security offices in the Adventist community. During the summer of 2010, Hodges contacted his counterparts at various Adventist colleges and institutions to see whether there was interest in forming such an organization. The response was overwhelming. Some departments committed to attending the meetings and those that could not stated their support, Meeting dates and an agenda were set and the rest fell into place. Hodges learned that many of his counterparts were also retired law enforcement or active members of their local law enforcement communities with a diversified knowledge base and experience to share.
"It's my desire that this association will bring a level of professionalism across the board to all Adventist entities, so we're all providing similar services in a professional manner," says Hodges. "Setting the bar so to speak."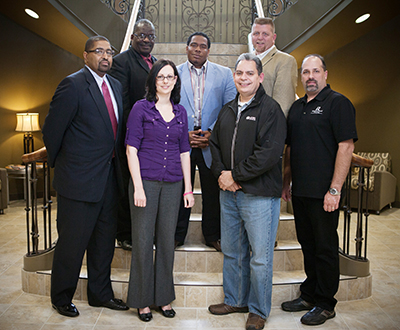 PASS Officers (back row, L-R) Lewis Eakins, vice president, (chief of the
Oakwood University Police Department); Melvin Harris, sergeant at arms,
(captain of the Oakwood University Police Department); Dale Hodges, president
(director of the Office of Campus Safety, Andrews University).
(Front row, L-R) James Vines, General Conference director at large (director of
Security & Safety for the General Conference of Seventh-day Adventists); Blaise
Adams, secretary (office manager, Campus Safety, Southern Adventist University);
Paul Muniz, chaplain (director of Agency Safety & Security for ADRA); Brian Worden,
treasurer (foreman for Plant Services, Review & Herald Publishing Association).
During its second annual meeting in 2012, PASS adopted an official constitution and bylaws in addition to laying out several goals. One goal is the development of a webpage under the General Conference of Seventh-day Adventists. This website will allow PASS to provide its members with resources of working policies and guidelines for emergency management that include requirements published by the Department of Homeland Security and the Department of Education. Other goals included the development of a peer review team to evaluate the security services of institutions at their request and suggest possible improvements; the collection of a database for persons or things of interest; and recommendations for Clery Act compliance and adherence to NFPA, OSHA and EPA regulations and guidelines within our institutions.
The 2013 PASS Conference is scheduled for July 15–16, 2013, at Loma Linda University. For information on attending, contact Dale Hodges, current PASS president and director of the Andrews University Office of Campus Safety, at
dbhodges@andrews.edu
.