Kathy Troccoli at the Howard
Top Headlines
Date:
February 6, 2013
Contact:
hpac@andrews.edu
Website:
howard.andrews.edu
Phone: 269-471-3560
Bringing 30 years of experience in music and ministry as a singer, songwriter, speaker and author, Kathy Troccoli will be performing at the Howard Performing Arts Center on Sunday, Feb. 24, 2013 at 7 p.m. Her hit songs include
Go Light Your World
,
Everything Changes
,
Mission of Love
, and
My Life is In Your Hands
.
Kathy has gained many accolades as well as nominations during her successful career. She has had 19 Dove Award nominations, two Dove Awards and three Grammy nominations. She has had 17 #1 radio hits, some of which were crossover hits on secular radio as well.
Throughout her long journey, Troccoli has always shown her passion for sharing the gospel through musical storytelling. She is also a speaker and author of numerous books including
Spaghetti for the Soul, Am I Not Still God?, Live Like You Mean It
, and her bestselling book,
Falling in Love with Jesus
, coauthored with Dee Brestin. In her career, she has 19 recordings, four of which she produced on her own label "KT Records," which includes her beloved worship CD,
Draw Me Close
.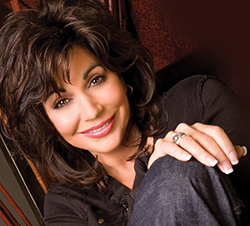 Kathy has been called "intelligent, funny and raw" and described as "an artist on a quest." In her own words, "I am humbled and honored to use my voice for His glory." Over the years, she has weathered things that have caused her to develop communication skills and the ability to focus on her goals. "I have to home in on what Kathy Troccoli needs to do—what God has called her to do," Troccoli told the
Roanoke Times & World News
, during one career turning point.
Tickets for Kathy Troccoli can be purchased by calling the Howard Performing Arts Center box office at 269-471-3560 or 888-467-6442. General admission tickets are $20, faculty and staff tickets are $15 and student tickets $5. Special rates apply for groups and Flex Series tickets. General admission priced tickets are also available online at iTickets.com. Learn more by visiting
www.howard.andrews.edu
.