Howard Center: A Community Resource
Top Headlines
Date:
March 19, 2013
Contact:
hpac@andrews.edu
Website:
howard.andrews.edu
Phone: 269-471-3560
Did you know the Howard Performing Arts Center holds more than 200 events each year? Did you know that in addition to University ensembles, local elementary and secondary schools are able to utilize the Howard? Further, did you know the Howard Performing Arts Center is available for rental use for special events and weddings? In short, the Howard Performing Arts Center at Andrews University—designed for the performance of music and educational activities meeting fine arts standards—is committed to continuing to make the facility available to the community.

The Howard Performing Arts Center is a busy venue with 207 events last year alone. Erica Griessel, manager, says, "The needs of our Andrews University Department of Music ensembles are our top priority—choirs, operas, symphony orchestra, wind symphony, student recitals, faculty recitals and studio recitals."

Local schools, including Andrews Academy, Ruth Murdoch Elementary School, Village SDA Elementary, Berrien Springs Middle School and Berrien Springs High School, also utilize the concert hall throughout each season. The University also uses the facility to host speakers for University forums, an annual student talent show, several music festivals, and as a venue to host prospective students. In the summer months, the Howard Center is home to multi-day conferences. There is also steady interest in using the concert hall for recording purposes.

The John & Dede Howard 90.7 WAUS Studios are also housed at the Howard Performing Arts Center. In partnership with WAUS, a Second Sunday Concert Series is held on the second Sunday of each month at 4 p.m. Most concerts are free of charge and feature a classical artist.

The major donors for the building, John and Dede Howard, had a strong desire for the facility to serve not only Andrews University's needs but also Berrien Springs and the greater Southwest Michigan community. This remains a strong priority for Andrews University administration.

"Much of our busy season is comprised of groups from the University and the community who rent the lobby or concert hall for their special event," continues Griessel. "Community groups, such as the Optimist Club of Berrien Springs, the Michigan State University 4-H Extension program, Southwest Michigan Symphony Orchestra's Musicians in the Schools, and Lake Michigan Youth Orchestra use the Howard Center nearly annually."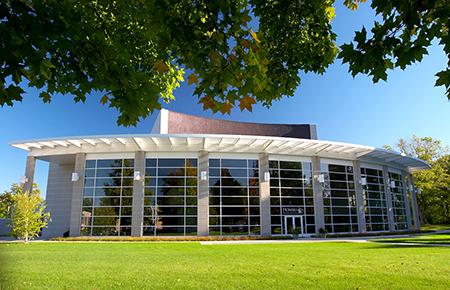 The lobby of the Howard Center is frequently rented for wedding receptions,
dinner parties, banquets, business luncheons and senior photos.
Howard Performing Arts Center management plans an annual season with six to twelve concerts with visiting artists in the genres of classical, Christian contemporary, jazz, world and instrumental music.
Griessel says, "With our desire to be your home for an exceptional concert experience, we make an effort to represent both local artists as well as artists from all around the world. In the past we've featured Vienna Boys Choir, Sandi Patty, Canadian Brass, Brandon Heath, Dailey & Vincent, and many more."
If you've never been to the Howard Performing Arts Center, the current season still has several great concert experiences. On April 7, Christian contemporary artist Laura Story performs. The University Singers and Chorale perform in their annual Easter Choral Concert on Saturday, March 30, and the Wind Symphony has their spring concert on Sunday, April 21. As a finale to the season, the University Chorale and Symphony Orchestra are performing Mendelssohn's Elijah with Charles Reid, tenor, on Saturday, April 27. For more information, visit us on the web at
howard.andrews.edu
or call the box office at 269-471-3560.
Planning for the 10th season, 2013–2014, is currently underway. Management always accepts suggestions from the campus and community on artists for the Howard Center Presents… concert series. Send suggestions to Erica Griessel, manager, at egriessel@andrews.edu or call 269-471-3560. If you have an interest in renting the Howard Center or the lobby for your special event, please contact them for further information.