Benjamin, Ferreira Appointed
Top Headlines
Date:
March 5, 2013
Contact:
iss@andrews.edu
Website:
Phone: 269-471-6395
Following the retirement of Najeeb Nakhle, who served for 20 years as director, the Office of International Student Services & Programs now has Robert Benjamin, director, and Silmara Ferreira, associate director, serving the growing services and programs this office provides to the University's international student population.
The Office of International Student Services & Programs serves the international students of Andrews by assisting them with the orientation process, providing immigration advice, and acquainting them with available scholarship opportunities. Their expanding role now includes partnering with Enrollment Management to enhance initial communication with international students; providing more opportunities for cross-cultural dialog and engagement; and coordinating the various services to support international students through to their degree completion at Andrews University.
"As we reviewed the pool of applicants, it became abundantly clear that there were two exceptional candidates, Robert Benjamin and Silmara Ferreira," said Franci Faehner, vice president for Student Life and chair of the search committee. "Therefore, in light of emerging strategic plans for the structure, influence and functions of the Office of International Student Services & Programs, the committee asked me to find a way to retain the services of both candidates," says Faehner.
Robert Benjamin, director
Benjamin accepted the invitation to serve as the director of the Office of International Student Services & Programs. He began in mid-January. Benjamin brings a foundational working knowledge of the mission and operations of Andrews University, having served as a senior financial aid advisor for six years in the Office of Student Financial Services. Additionally, he has served as director of the Financial Aid Department for Holy Cross College in Notre Dame, Ind., and most recently as director of Work and Financial Opportunities at Alma College in Alma, Mich.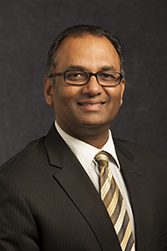 Robert Benjamin
A well-traveled individual, Benjamin has lived in Malaysia, the Philippines, and India where he graduated with a BA in economics and management in 1986 from Spicer Memorial College in Pune. He received his MDiv from Andrews University in 2002, and an MBA from Bethel College in Mishawaka, Ind. He speaks several languages, and enjoys sketching, drawing and painting.
"In my new role, it is my greatest desire to welcome, accommodate and assist international students to transition smoothly to our campus and to this community," says Benjamin. "It is further my desire to help each student to have an enhanced and pleasant experience in all of their dealings while they are here and to taste our hospitality so when they leave to return to their home country, they would strongly encourage others to come and enjoy this experience as well. Most of all, it is my hope that while they are here, they will find Jesus and will cultivate a closer walk with God so they can live the rest of their life for Him."
Silmara Ferreira, associate director
Silmara Ferreira, who most recently served as training coordinator in the Office of Human Resources, is already a familiar face on campus. Ferreira also worked with the Andrews University Division of Enrollment Management team in the recruitment of international students and managed significant responsibilities regarding communications and connections to the campus for new international students.
Ferreira graduated with a bachelor's degree in language and literature from the Instituto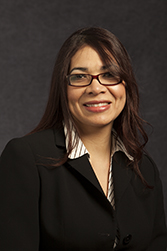 Silmara Ferreira
Adventista de Ensino in São Paulo, Brazil. There, she also taught Portuguese grammar and literature for five years. In 2009, Ferreira received her MA in religious education from Andrews University. She has a passion to help others be successful, as is reflected in her service to Andrews' students and faculty thus far. "After many conversations with God I felt that I had to accept this new position," says Ferreira, "I feel that it is my ministry to guide students, serve them and provide them with the feeling that they are not alone here in this new country and new culture." In addition to helping students figure out the legal and enrollment processes to get to Andrews, Ferreira works to help students fully integrate into the Andrews community.
"Clearly, we have in both Robert and Silmara, a dynamic leadership team, who have a proven track record of excellence and deep passion for international students," says Faehner.
Retirement of Najeeb Nakhle
After 20 years of service as director of the Office of International Student Services, Najeeb Nakhle was honored at a retirement reception on Jan. 17, 2013. Students and faculty alike gathered to shared their appreciation for the man who has done so much to contribute to the global mission of Andrews University and the Adventist church.
Nakhle was born to a Greek Orthodox Christian family in Tartous, Syria, where he completed his elementary and secondary schooling. After high school, Nakhle studied English at Middle East College. During his studies at Middle East College, he was converted to the Seventh-day Adventist faith and began to study theology. Nakhle went on to earn three degrees at Andrews University: a Master of Arts in pastoral ministry, Master of Divinity and Doctorate of Ministry. From 1978–1991, Nakhle taught theology in Chile and Argentina before accepting the position of director of the Office of International Student Services at Andrews University in 1992.
During his time in this position Nakhle has served the international students of Andrews in multiple ways, from assisting them with the orientation process to providing immigration advice, and so much more. "Sometimes, I get a little emotional because I've loved my job so much, I love my students," says Nakhle. His favorite aspect of his position were the opportunities he had to assist students who were desperate to attend Andrews, but needed help.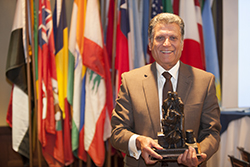 Frances Faehner, vice president for Student Life, notes one of the most significant contributions Najeeb made to Andrews was navigating the many changes to regulations that occurred after 9-11. "The University has deep gratitude to Dr. Nahkle for the careful, meticulous way that he regularly ensured he was abreast of the changing guidelines for international students and for keeping the rest of campus informed."
Faehner continued, "The more enduring contribution Najeeb made to Andrews was just his deep passion for the students. When there were successes, he was as proud as any father would be. Likewise, when there were challenges or a student had to leave, it brought him pain. He really worked closely with students and was always very anxious to help them succeed."
Nakhle plans to spend at least the first year of his retirement traveling with his wife, Aneesi Nakhle, to Japan and Arizona to visit their children and grandchildren.