New Dean of Seminary Named
Top Headlines
Date:
March 5, 2013
Contact:
pr@andrews.edu
Website:
Phone:
A new dean has been named at the Seventh-day Adventist Theological Seminary at Andrews University. Jiří Moskala, who has served at the Seminary since 1996, accepted the position most recently held by Denis Fortin. Moskala's appointment is effective July 1, 2013. In October of 2012, Fortin announced his desire to step away from administration in order to return to full-time teaching in the Department of Theology & Christian Philosophy at the Seminary beginning fall 2013.
"We narrowed it down to five candidates. When the final candidate review was done, it felt like the Lord was leading because there was a definite consensus that emerged on one candidate: Jiří Moskala," says Ben Schoun, chair of the Andrews University Board of Trustees and a general vice president for the General Conference of Seventh-day Adventists. "Dr. Moskala is a fine academic scholar and very loyal to the church. I don't know anyone who can question his commitment to the mission and values that we stand for."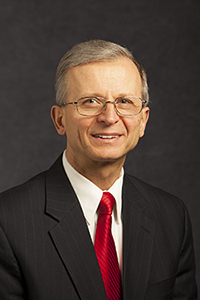 Jiří Moskala has been a member of the
Seminary faculty since 1996.
Moskala presently serves as professor of Old Testament exegesis and theology and chair of the Department of Old Testament at the Seventh-day Adventist Theological Seminary. Moskala says of his new appointment, "My vision for the Theological Seminary is to be the light for the world and the theological resource for the church. We are here to serve the worldwide church in various capacities to prepare future church leaders to work and deal with different challenges in order to proclaim the eternal Gospel with conviction, urgency and passion, make a difference for good, and prepare people for the soon second coming of Jesus."
The Seminary dean is a member of the General Conference International Board of Theological and Ministerial Education, the North American Division Executive Committee and the North American Division Board of Theological and Ministerial Education. Additionally, the dean of the Seminary works closely with leadership from both the North American Division of Seventh-day Adventists and the General Conference of Seventh-day Adventists. Schoun says, "The Seminary at Andrews University is like a wonderful think-tank for the Adventist church. For those of us in church leadership who are out encouraging the work on the ground to go forward, it's nice to get the council of the thinkers who are here at the Seminary. It's a wonderful resource to be able to call upon in these various kinds of church issues."
"Moskala is someone who comes from a very strong biblical and mission-oriented background," says Ted Wilson, president of the General Conference of Seventh-day Adventists. "He and his family are very focused on the tremendous task the Lord has given to the Seventh-day Adventist Church and out of that grows his passion for the educational process and mission of the church. It is a blessing to have someone like that heading the Seminary, keeping in front of many theological students, not only the academic side, which is very important, but also the practical mission side."
Jiří Moskala
Born in Cesky Tesin, Czech Republic, Moskala received a Master of Theology in 1979 and a Doctor of Theology in 1990, all from the Comenius Faculty of Protestant Theology (now Protestant Theological Faculty of Charles University), Czech Republic. In 1998, he completed his Doctor of Philosophy from Andrews University.
Moskala began his ministry as a pastor for the Czecho-Slovakian Union, serving in this capacity until 1989. When the Communist regime fell after the Velvet Revolution, he established and served as the first principal of the Theological Seminary in Prague for training pastors. Moskala also served in various other capacities including director of the Life and Health Society, Education Department and Health Department for the Czecho-Slovakian Union. Moskala has served as a speaker for many Bible conferences and theological symposia in all 13 divisions of the Seventh-day Adventist Church and has lectured at Adventist universities and colleges around the world.
Moskala is a member of various theological societies including the Adventist Society for Religious Studies, Adventist Theological Society, Chicago Society of Biblical Research, Society of Biblical Literature, and Society of Christian Ethics. Moskala has authored or edited a number of articles and books in both Czech and English. In addition, he has participated in several archaeological expeditions in Tell Jalul, Jordan.
Moskala and his wife, Eva Moskalova, have five grown children and three grandchildren. "This is a great honor for the confidence expressed in me, but it also holds a sense of immense responsibility. I feel like Moses in front of the Burning Bush. One of the Bible verses which speaks to me in this situation is Proverbs 16:9: 'In his heart a man plans his course, but the Lord determines his steps.' But I trust God, because when He calls one to do something, He also provides strength, wisdom, guidance, and constant help. I rely on God's promise: Isaiah 41:13, I am the Lord your God who took you by your right hand and says to you do not fear, I will help you," he says.
The Seventh-day Adventist Theological Seminary
The primary mission of the Seventh-day Adventist Theological Seminary is to prepare ministers and teachers for the Seventh-day Adventist Church. It offers a Master of Divinity; Master of Arts in Pastoral Ministry, Religion, Religious Education, and Youth & Young Adult Ministry; dual degrees in Master of Arts in Youth & Young Adult Ministry/Master of Social Work and Master of Divinity/Master of Social Work; and five doctoral programs: Doctor of Ministry; Doctor of Philosophy in Biblical & Ancient Near Eastern Archaeology, Religion, and Religious Education; and Doctor of Theology.
The Seminary has seven departments: Christian Ministry, Church History, Discipleship & Religious Education, New Testament, Old Testament, Theology & Christian Philosophy, and World Mission. It also offers learning opportunities to students through several centers and institutes such as: Center of Continuing Education for Ministry, Institute of Church Ministry, Institute of Hispanic Ministry, Greek Manuscript Research Center, the Institute of Archaeology, and Institute of Jewish-Christian Studies. In addition, the Seminary works in close association with the North American Division Evangelism Institute (NADEI), the Center for Youth Evangelism, and the Seventh-day Adventist Institute of World Mission. The Seminary is one of the most ethnically and linguistically diverse seminary campuses in North America with about 550 students studying on the main campus and an additional 750 attending Seminary classes offered at extension sites in North America, Europe, Africa and Asia. The Seminary holds full accreditation from the Adventist Accrediting Association, the Association of Theological Schools and the Higher Learning Commission.