Produce Subscriptions
Top Headlines
Date:
March 26, 2013
Contact:
info@augardens.com
Website:
www.augardens.com/csa-registration
Phone: 269-471-6006
This summer you can have fresh produce delivered to your door for 20 weeks, courtesy of Andrews University Student Gardens. The program begins in mid June and continues through October. Registration opens April 15.

Subscribers can choose between a full share of produce for $600 and a half share for $400. Each basket includes at least six types of fresh produce, such as tomatoes, peppers, eggplant, broccoli, corn, kale, carrots and cucumbers. In addition to the classic vegetables, this year Andrews Student Gardens will have options available to add fresh flowers and fruit to your baskets. Flowers will be an additional $40 increase for the 20 weeks (cut and potted bouquets as seasonally available). Fruits will be a $100 increase for the 20 weeks (blackberries, raspberries, apples, peaches and melons as seasonally available). Weekly newsletters accompany the baskets with fresh recipes and helpful information.

Delivery is free within a 15-mile radius of the campus, but those who prefer can pick up their share on Friday mornings from 11 a.m.–2 p.m. at the local farm stand, which will be located at the Neighbor-to-Neighbor parking lot at 9147 Hwy M-139 in Berrien Springs, Mich.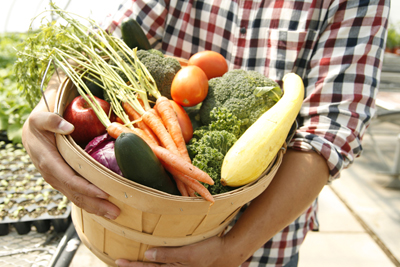 Andrews Student Gardens are designed to give students practical gardening experience, provide income, offer student employment, support farming, and provide the community with the opportunity to receive fresh produce that will aid a healthy lifestyle. The gardens include three acres of Gala apples, four acres of peaches, 2,500 feet of raspberries, 1,000 feet of blackberries, three greenhouses, and ten acres of vegetable production. The produce delivery program and the farm stand are part of the CSA (Community Supported Agriculture) program. Currently, the program is working to receive organic certification.

Registration will open April 15 with the first baskets being delivered June 13. To subscribe, visit www.augardens.com/csa-registration. For more information, call 269-471-6006 or email info@augardens.com.