National Merit Finalists
Top Headlines
Date:
April 22, 2013
Contact:
academy@andrews.edu
Website:
www.andrews.edu/aa
Phone: 269-471-3138
Andrews Academy is pleased to announce two National Merit Finalists and one Commended Student in this year's National Merit Scholarship Program, a nationwide competition for recognition and awards conducted by the National Merit Scholarship Corporation (NMSC).
Sarah Johnston of St. Joseph, Mich., a four-year senior, and Andrew Krause of Benton Harbor, Mich., a three-year senior, are National Merit Finalists. Jessica Snively of South Bend, Ind., a four-year senior, is a Commended Student.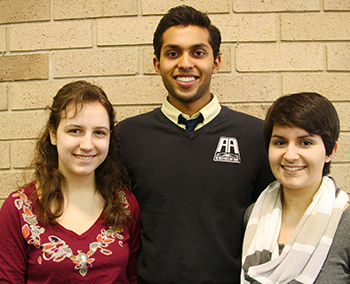 Pictured L-R: Sarah Johnston, Andrew Krause and Jessica Snively
"We want to congratulate our three National Merit seniors. We are so proud of each of them and for every member of the class of 2013," says Robert Overstreet, principal of Andrews Academy. "We pray that all of our students will continue to develop academically and spiritually throughout the rest of this school year and every year of their lives."
Approximately 1.5 million students from 22,000 high schools entered the 2013 National Merit Scholarship program by taking the 2011 Preliminary SAT/National Merit scholarship Qualifying tests (PSAT/NMSQT).
The finalists in each year's National Merit Scholarship program show exceptional academic ability and potential for success in rigorous college studies. These students are the highest scoring entrants and represent less than one percent of each state's high school seniors. These two seniors account for approximately four percent of their class. The finalists now qualify for the next level of the National Merit Scholarship competition, the National Merit Scholar award, which will be awarded during graduation weekend of May 2013.
About 34,000 Commended Students throughout the nation, approximately 2 percent of students taking this year's PSAT/NMSQT are being recognized for their exceptional academic promise, and will receive a letter of commendation from the National Merit Scholarship Corporation.
Andrews Academy is a four-year college preparatory school located on the campus of Andrews University.