Students Win Redesign Challenge
Top Headlines
Date:
April 22, 2013
Contact:
engineering@andrews.edu
Website:
http://www.andrews.edu/cas/ecs/
Phone:
Two Andrews University students in the Department of Engineering & Computer Science won in their category of the 9th Annual Extreme Redesign 3D Printing Challenge. Andrew Roderick, a junior, and Brian Booth, also a junior, took the top prize in the College Engineering category. Both received a scholarship from Stratasys, the contest sponsor and manufacturer of 3D printers and production systems for prototyping and manufacturing.

This international contest encouraged students to submit an innovative product design, a redesign of an existing product, or an original work of art or architecture.
Says Andrew, "We were ecstatic and honored to win and be able to represent Andrews University on an international level. I really appreciate the friendship and encouragement of our professors while providing a great education."

The project requires two backgrounds: the ability to use a computer-aided drafting CAD software and the ability to visualize in 3D. The submissions to the engineering category were either innovative designs or redesigns of an existing product, and Stratasys judged them according to "creativity, usefulness, part integrity and aesthetics." Winning designs in the past have included a Continuous Supply Hand Pump, an Off Road Cell Phone Carrier, and a Stair Climbing Robot.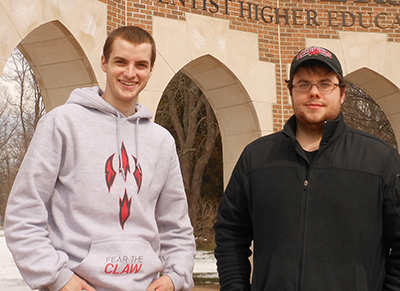 Andrew Roderick and Brian Booth collaborated on the redesign.
Boon-Chai Ng, professor of engineering, teaches Manufacturing Processes which is a third year mechanical engineering class where student learn how to put a product together from an idea to a finished product. During fall semester of 2012, Ng saw this competition as a great opportunity to "encourage the students to use their God given talents to create something useful."
Andrew and Brian submitted a redesign, which they called the Crawler Seat 2.0. Brian described the experience saying, "It was great to apply the knowledge that we have learned to design a product that is applicable to real world situations. The professors in the Department of Engineering & Computer Science are incredibly helpful and insightful and this project was a great example of their desire to see us succeed."

Due to the fact that the submission is currently under review for commercial product development and licensing, details of the design will be released at a later date.