Debunking Myths of the Howard Center
Top Headlines
Date:
April 22, 2013
Contact:
hpac@andrews.edu
Website:
Phone: 269-471-3560
Over the years, there have been many myths and misconceptions concerning the Howard Performing Arts Center and we want to set the record straight. What follows is information you should know about the Howard Center; some is true, some is false, and some is just plain silly. Read on and discover the truth!
Myth: Every concert held at the Howard Performing Arts Center is a Howard Center sponsored and planned concert.
False. We have many different individuals, groups and departments rent the concert hall throughout the year. Unless the concert is labeled as part of the "Howard Center Presents…" series, it is being put on by someone else, which means we are generally not in charge of advertising, equipment rental, planning or producing the event. Any involvement we have with these concerts (such as selling tickets or providing volunteers) is requested by the renting group. We have the highest possible standards when we book an artist to come to the HPAC, because we have likely paid this artist thousands of dollars to perform. We budget for necessary equipment rental and adequate advertising to make sure the concert is a success. Unfortunately, not every renting group has the ability to pay for these things. While we do what we can to help them have a successful concert or event, we are limited with what we have available to us in-house.

Myth: Artists booked at the Howard Performing Arts Center are based on the personal taste and musical preference of the Howard Center staff.
False. The concert hall was designed for the performance of classical, instrumental and acoustic music. Every decision made regarding season planning is based on how to reach the most people, meaning all ages, all cultures and all musical preferences, and presented to committees and focus groups. As such, we want to hear about who you want to see here! Many of our best-selling concerts were booked because we received repeated requests. If we can afford it, we will do everything we can to make it happen! We want to serve the community and the student body.

Myth: The Howard Performing Arts Center will never have a very popular artist such as Josh Groban perform there.
Probably True. While we would love to be able to book any artist we wanted, our season budget is very limited, and an artist like Josh Groban (or Mumford and Sons, or Justin Beiber, as has been requested by some!) would be well beyond anything we could afford. Really big names are often hundreds of thousands of dollars to book, and we have only a small fraction of that to plan our entire season. When we book artists, it is a balancing act between who we can afford, and who students and the community will recognize and want to see. Unless we have a very generous sponsor, very big names such as these will most likely never make it to the Howard Performing Arts Center.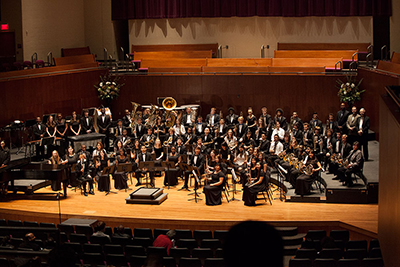 The Howard Performing Arts Center had over 200 events in 2012 alone.
Myth
: The Howard Performing Arts Center is underutilized.
False!
The Howard Performing Arts Center had over 200 events last year alone. In addition to our own series of 6–12 concerts each season, we host all the Department of Music concerts and recitals, the WAUS-sponsored "Second Sunday" Concert Series, spring and fall concerts for Andrews Academy, Ruth Murdoch Elementary, and Village SDA Elementary, as well as many of the concerts for the Berrien Springs High School and Middle School. Enrollment Management often uses our building for preview events for prospective students, and we welcome musical groups from sister schools around the country several times a year. We also host many conferences, vespers and the occasional church service as well. The lobby is also frequently rented for banquets and wedding receptions. We are very busy!
Myth: The Howard Performing Arts Center does not allow worship services.
True and False. Worship services that are part of a multi-day conference are allowed in the Howard Center. However, regular weekly worship services are not scheduled for a number of reasons. First, dedicating the Howard Center to a weekly church service (in the way that Newbold Auditorium hosts One Place and the Seminary Chapel hosts New Life) would conflict with the many conferences that take place here throughout the year that require a space for the Sabbath morning church component of their program. Second, when the HPAC was built, it was originally intended for the performance of music, and it was not expected to be a very high-use building. The materials chosen for its construction, especially in the concert hall where the space is meant to be nearly acoustically perfect, are not intended for heavy use. This makes the building much more expensive to repair and maintain than a classroom building would be, requiring us to be discerning in how many, and what types of events we allow. A weekly worship service would put undue strain on the building and our resources.

Myth: The Howard Performing Arts Center doesn't really advertise for concerts.
False! For "Howard Center Presents…" concerts, in addition to the posters you see around campus and the fliers we place on the cafeteria tables, we advertise in the Student Movement and display our digital slides on all the flat-screens across campus. We also hang posters throughout Berrien Springs, Benton Harbor and St. Joseph, and we run advertisements in the Herald-Palladium, South Bend Tribune, and a weekly ad in the Journal Era. We notify local churches of events, make announcements in their bulletins, or ask them to hand out fliers and hang posters. We also run ads on radio stations such as WAUS (for classical concerts), WFRN and PulseFM (both for Christian concerts). Finally, all the information we have for events is listed on our website, and videos and sound clips of the artists we book are also available through our website. If a concert is not well attended, it is not for lack of advertising. Aside from our "Howard Center Presents…" series, we promote other concerts by posting available information on our website and running digital posters on our lobby monitor. Unfortunately, we do not have a large enough advertising budget to aggressively advertise for non-HPAC events.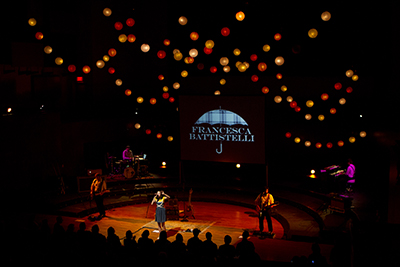 The Howard has hosted a number of well-known artists, including Francesca
Battistelli in 2011.
Myth
: Renting the Howard Performing Arts Center is expensive.
It depends who you ask…
While paying $1,000 to rent the lobby on a weekend may seem steep to some, the ambiance here is beyond that of a church fellowship hall or rec center. This is a state-of-the-art facility that is quite expensive to operate and maintain, and our rental fees reflect those costs. These fees were also established based on comparisons to what comparable facilities throughout the area charge for their rentals. However, keep in mind that we do offer significant discounts to current employees and students wishing to rent the lobby or the concert hall, and academic departments and groups receive even deeper discounts.
Myth
: Fusion vespers no longer exists because the Howard Performing Arts Center didn't want it taking place there anymore.
False
. The Howard Center hosted Fusion, but it was a production of Campus Ministries. The Office of Campus Ministries made the decision regarding the conclusion of Fusion, a vespers service, since they are the organization that planned, funded and coordinated Fusion. Questions relating to faith programming can be emailed to
cm@andrews.edu
.
Myth:
Tuition dollars are used to pay for fancy lighting, new equipment and expensive upkeep of the building.
False
. Students pay an activity fee as part of their tuition each year, of which the Howard Performing Arts Center receives a portion that helps support our season. This money is only used to book artists and produce concerts. Because of this, Andrews University students will always receive a very low and special student rate for tickets, and will sometimes even attend for free.
Myth
: Tickets can be charged to student accounts.
False
. We accept cash, check, credit card or debit card, but we cannot charge tickets to a student account. We do, however, ask for your student I.D. number when you purchase tickets so that we can give you the discounted student rate. Each I.D. number can get up to two tickets at the discounted rate.
Myth
: The Howard Performing Arts Center is only open during concerts and events.
False
. The Box Office is open Monday–Thursday, 1:30–5:30 p.m., and Friday, 1:30–3:30 p.m. Additionally, the administrative offices are open Monday–Thursday, 9 a.m.–5 p.m., and Friday, 9 a.m.–3 p.m. Both offices are located in the Howard Center lobby, and anyone is welcome to stop by during business hours or during concerts and other events.
Myth
: The Howard Performing Arts Center has full-time employees.
True
. But not as many as you might think. In addition to our part-time student box-office workers and sound technicians, the HPAC only has two full-time employees, a manager and an assistant manager. These two positions are responsible for all tasks, activities and responsibilities at the HPAC, including marketing and advertising, booking artists and planning concerts, scheduling and coordinating student workers and volunteers, coordinating rentals of the concert hall and lobby, managing and maintaining the building, planning and promoting each season, and much more! Stop by and meet us! We love meeting AU students.
Myth: Using the screen and projector at the Howard Performing Arts Center is no big deal.
False. We do not have an automatic, retractable screen. Whenever we receive a request for a screen and projector, we must assemble our large screen and either stand it up on legs or hang it on cables from the catwalk above the stage. Both of these are difficult, time-consuming, multi-person jobs, but can be done and are done often. However, using the screen and projector is not as simple a request as it might be in another venue on campus.

Myth: Meat cannot be served in the lobby during banquets, weddings, etc.
True. While we do not require a specific caterer for an event, we do not allow meat to be served. Also not allowed are alcohol and smoking, as is the case all across campus. You are, however, allowed to have non-alcoholic drinks, even if the liquid is not clear.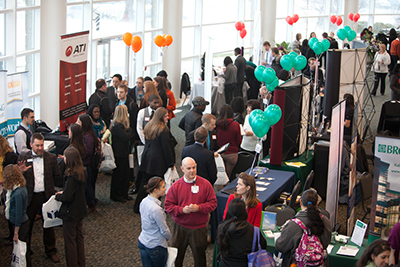 The Howard Lobby is used for a variety of events, from weddings and private
parties to job fairs and acadmic events.
Myth
: The Howard Performing Arts Center is a non-profit organization.
True
. A non-profit is an organization that uses surplus revenues (if there are any) to achieve its goals, rather than distributing them as profits or dividends. If we make any money it goes right back into our operations.
Myth: The Howard Performing Arts Center is not affiliated with Andrews University.
False. The Howard Performing Arts Center is both owned by the University and on the University's budget, and its staff are University employees.
Myth: The Howard Performing Arts Center became so expensive to maintain that Andrews University could no longer afford its upkeep and had to sell it to an outside party.
False. While it is true that the maintenance and upkeep of the HPAC is high like any other building on campus, the University has no plans to sell the building. It still belongs to Andrews University and we see no reason why that would ever change.
Myth: The primary donors to the Howard Performing Arts Center have strict demands and will pull their funding if these demands are not met.
False. John and Dede Howard, the major donors of the building, have a profound love of music, a shared commitment to the community, and are extraordinarily generous. What the Howards envisioned was a world-class facility for fine arts presentations—a state-of-the-art resource devoted to the performance, recording and broadcasting of music, and a cultural center to be shared and enjoyed by the entire community.They continue to donate money to the building each year for its upkeep and improvement and are huge supporters of what we do here.

We know that there are probably a lot more assumptions and misconceptions about the Howard Performing Arts Center out there that we didn't cover or don't even know about, so we invite you to contact us with any and all questions or concerns you might have. We also welcome your suggestions and input regarding the Howard Center and our season. The Howard Performing Arts Center is here for the community, but it is also here for the students, and we appreciate your feedback and support.