Celebrating 75 Years
Top Headlines
Date:
April 22, 2013
Contact:
Website:
http://www.andrews.edu/library
Phone: 269-471-3275
The campus and community are invited to a birthday party for the James White Library on May 15, 12:30–1:30 p.m., in the Library's main floor gallery area. "We kicked off the school year with a celebration of our 75th anniversary," says Larry Onsager, dean of Libraries. "But May 15 is closest to the actual date the library was named James White Library, and falls in conjunction with the 150th anniversary of the founding of the General Conference of Seventh-day Adventists. We invite the campus and community to mark these special occasions together."

Former directors of the Library and key retirees have been invited to participate in the celebration. All former employees, including former student workers, will be recognized. Merlin Burt, director of the Center for Adventist Research (CAR), will present a brief history of the library and the General Conference. Terry Robertson, Seminary librarian, will initiate a project of taking oral history accounts about the library from current and former staff, as part of the celebration, which he's hoping will reveal further details about the library's development and contribution to Andrews University through the years. Birthday cake will be served at the conclusion of the event.

Guests are also invited to view the new display in CAR that highlights 150 years of the General Conference.

The capstone event for the Library's 75th anniversary will be an exhibit of the many and varied special collections of the Library, to be on display across campus in conjunction with Alumni Homecoming Weekend, Sept. 27–30, 2013. The exhibit will include artwork, mission artifacts and textiles, rare book collections, furniture of historical interest, and archived movie films of campus development.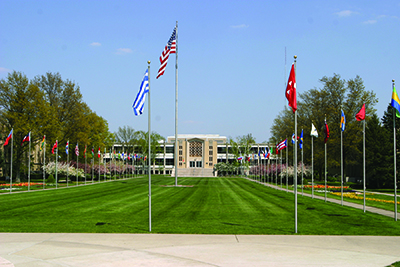 The James White Library was named in 1938 in honor of Seventh-day Adventist pioneer James White. He became a minister in 1843 and married fellow Adventist pioneer Ellen G. Harmon in 1846. When the first Adventist college was established in Battle Creek in 1874, White was the chief promoter of the college that would eventually become Andrews University. A committed worker for God, who traveled widely to preach and encourage, White died at the age of 60 in 1881.

Today the James White Library holds print books, bound periodical volumes, access to more than 90,000 full-text periodicals and more than 1,150 electronic databases, as well as multimedia materials totaling more than 1.6 million items. The Seminary Library, the Center for Adventist Research and the Mary Jane Mitchell Multimedia Center are housed in the main library. The Library also operates two branches, the Architecture Resource Center, housed in the Architecture Building, and the Music Materials Center, housed in Hamel Hall.