IAMA Conference Hosted at Andrews
Top Headlines
Date:
May 31, 2013
Contact:
simmonsd@andrews.edu
Website:
Phone: 269-471-3387
Andrews University recently hosted the 42nd annual conference of the International Association of Missionary Aviation (IAMA) from May 15–17, 2013. Over 90 pilots, professors and students from 20 different organizations gathered on Andrews' campus for three days of keynote presentations, discussion and business.
The featured speakers for the event were Ronald J. Maines, owner and founder of Crossroads Consulting Group, a strategic leadership group; David J. Schipper, president and CEO of the Schipper Group and founding member of the Spokane Turbine Center; and Dave Tanner, Safety Officer for Meijer's Flight Department.
Each speaker gave several talks throughout the conference; on Thursday Dave Tanner's afternoon address was entitled "A Path to Excellence in Aircraft Operations: Our Guide—The Word of God." As excellence in aviation becomes increasingly important, pilots, and especially Christian pilots, should cultivate "normalized excellence" in their lives, Tanner said. "God's people should make excellence a part of their personal ethos," said Tanner, connecting the Christian mission with the earthly one.
Following IAMA's annual Year in Review session on Thursday evening, conference attendees enjoyed a banquet and keynote presentation given by Terry and Debbie Montambo. The Montambos are active conference and ministry speakers, and served with the Mission Aviation Support Association for nine years.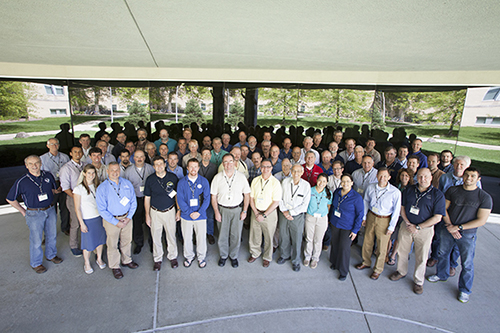 Several attendees flew in to the conference, including Tanner, who flew in from Grand Rapids, Mich. Many of the attendees have spent time flying in the mission field, and featured speakers Maines and Schipper flew as pilots for the United States Army during the Vietnam War.
Dina Simmons, chair of the Department of Aviation, reported that attendees enjoyed the conference, the airport and aviation facilities, and the Andrews University campus. "They're talking about coming back in the future," said Simmons. "IAMA is a wonderful network for Christian pilots in the mission field." Simmons noted that the majority of conference planning could not have been accomplished if not for her administrative assistant Jean Gustavsen, flight instructor Kathy Adrada, and student assistant Jose Quispe.
IAMA is a non-denominational association of mission pilots that provides support, resources and guidance in best practices for small missionary aviation organizations across the globe. IAMA is very active at aviation events throughout the country, including the annual AirVenture aviation celebration in Oshkosh, Wisc., where they are yearly participants in Fly for Life.
The next IAMA conference will be held in 2014 at the Prairie School of Mission Aviation in Three Hills, Alberta, Canada.