Commencement Class One of the Largest
Top Headlines
Date:
May 23, 2013
Contact:
pr@andrews.edu
Website:
Phone: 269-471-3315
One of the largest graduating classes in recent history—394 undergraduate students and 166 graduate students—received their degrees in the spring 2013 Andrews University Commencement services held Sunday, May 5, 2013.
For the first time, three services were held to accommodate the large number of graduates. Candidates from the School of Health Professions and the Seventh-day Adventist Theological Seminary marched in the 8:30 a.m. service, followed by candidates from the College of Arts and Sciences at 11 a.m. A service for the graduate and undergraduate candidates marching from the Departments of Agriculture and Aviation, as well as the School of Architecture, Art & Design, the School of Business Administration, the School of Education, and the School of Distance Education was held at 2 p.m.
In addition, 24 graduate students from Vietnam, representing a larger class of graduates receiving their Master of Business Administration degrees in Vietnam, were in attendance to receive their degrees from Griggs University, owned by Andrews University and operated through its School of Distance Education.
Commencement events began at the Friday evening Consecration service with Ante Jeroncic, associate professor of theology, presenting "The Stories We Tell Ourselves…"
Referencing his favorite authors, Fyodor Dostoyevsky and C.S. Lewis, Jeroncic told the graduates that the reason he loves these authors is because they realize our human tendency to construct ourselves other than who we are. "Lying to ourselves, Dostoyevsky writes, is more deeply ingrained than lying to others. And we are story-telling creatures of a certain kind. We continually tell ourselves stories about who we are and why we do the things we do. Most of the time we don't do it consciously, but we do it nonetheless." The antidote to this, and Jeroncic's wish for the graduates, is accepting the truth expressed in Jesus' life and the presence of the Spirit that demystifies all our fictions. "When the Spirit leads you into the presence of the One that is truth, and who promised you that the truth will set you free, and when you realize that there is no way out, the recognition of this leads to repentance."
On Sabbath morning, G. Alexander Bryant, executive secretary of the North American Division of Seventh-day Adventists and associate secretary of the General Conference, offered the Baccalaureate address, "Designed to Soar." Bryant challenged the graduates to excel beyond even their own expectations, likening them to eaglets learning to fly and preparing to "soar on."
Bert B. Beach, retired general secretary for the Seventh-day Adventist Council on Inter-Church Relations, was the featured speaker for the first and second commencement services. He is also the vice president for the International Religious Liberty Association. His address was titled, "Hitch Your Wagon to a Star!" Beach was also presented with an honorary Doctor of Humane Letters during the 8:30 a.m. service.
Judith L. Storfjell, senior vice president and chief nursing officer for Loma Linda University Medical Center, gave an address titled, "Imagine!" at the 2 p.m. Commencement service.
She reminded the graduates of the famous quote that "The future belongs to hose who believe in their dreams. You have planned well," Storfjell said. "But God also has plans for you, plans you can't even begin to imagine."
Professors Awarded the J.N. Andrews Medallion
Two professors were awarded a J.N. Andrews Medallion at the Andrews University commencement services on Sunday, May 5. Ranko Stefanovic, professor of New Testament at the Seventh-day Adventist Theological Seminary, was awarded the medallion at the 8:30 a.m. Seminary and School of Health Professions service. L. Monique Pittman, professor of English and Director of the J.N. Andrews Honors Program, was awarded the medallion at the 11:30 a.m. College of Arts & Sciences service.
The J.N. Andrews Medallion is given in recognition of excellence in research, teaching, and service. Since it was first awarded in 1979, 94 medals have been awarded to professors and teachers at Andrews Academy.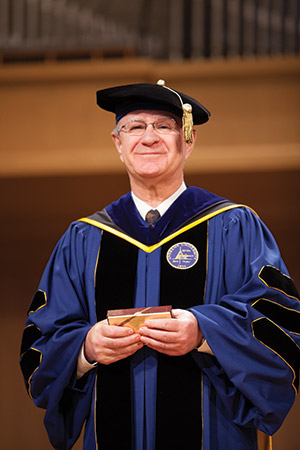 Ranko Stefanovic earned a diploma in theology from the SDA Theological School in Belgrade, Yugoslavia in 1970. He went on to complete an administrative officer certificate in Zagreb, Croatia in 1988, and then a BA in theology and an MA in religion from the Adventist International Institute of Advanced Studies in 1989 and 1990, respectively. He completed a PhD in religion from Andrews University in 1996.
Stefanovic began his career in 1970 pastoring in the Yugoslav Seventh-day Adventist Union Conferences in Serbia, Bosnia, and Croatia. From 1996 to 1999, Stefanovic taught in the department of religion at Canadian University College, before joining the Seminary faculty in 1999. He maintains a heavy schedule of preaching, guest lecturing, conference presentations, and scholarship, and has received numerous excellence in teaching awards. He is the author of two books, published by the Andrews University Press. Stefanovic's students describe him as an asset to the school and praise his spiritual influence in their lives.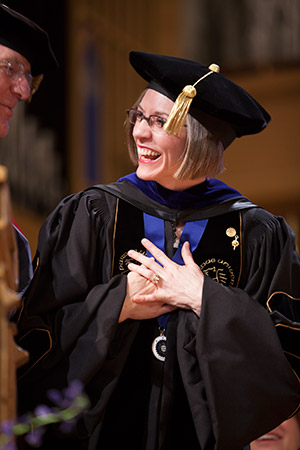 Beloved and esteemed by colleagues and students alike, Pittman is well-known for her contributions to the field of literature and the enthusiasm she devotes to the professional development of her students. She earned a BA in English from Andrews University in 1991, an MA in English from the College of William and Mary in 1993, and a PhD in 2000 from Purdue University. She taught for three years at Pacific Union College before joining the Andrews faculty in 1999.
Pittman has written extensively about Shakespeare and popular media, and has been published in top journals in the field including Shakespeare Bulletin, Literature/Film Quarterly, and Early Modern Literary Studies. She published a monograph in 2011 entitled Authorizing Shakespeare on Film and Television: Gender, Class, and Ethnicity in Adaptation (Peter Lang, 2011). Pittman regularly attends conferences, most recently presenting at the 2013 Shakespeare Association of America conference and the 2013 Oxford University Round Table on Women and Education that took place at Harris Manchester College, Oxford University, in England.
In addition to teaching and publishing, Pittman finds time to mentor student research, guiding the scholarship of numerous graduate and undergraduate students who have presented their research at Honors Symposia and at various professional conferences. Her students have pursued or are currently pursuing advanced degrees at such institutions as Emerson College, Berkeley Theological Union, Western Michigan University, Ball State University, the University of Maryland, Northwestern University, Salisbury University, University of Florida, University of Toronto, Columbia University, and her alma mater, Purdue University.
Upon being presented with the medallion, Pittman received a standing ovation from her Honors students and alumni, many of whose research she has mentored and who have gone on to significantly influence the scholarly community. She is the youngest woman to receive the J.N. Andrews Medallion.
Honorary Degrees Awarded

Two individuals were also honored with honorary doctorates: Bert B. Beach and Faith Lou Esham.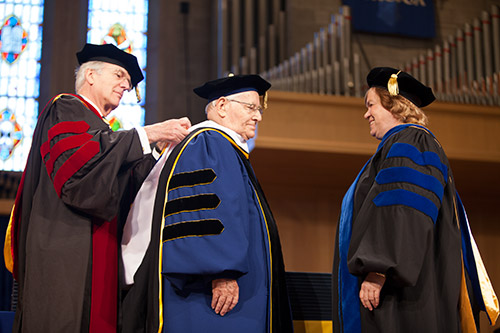 Born in Switzerland to American missionary parents, Beach received his early education in Switzerland, and then completed his college work at Pacific Union College in 1948. He attended Stanford University and the University of California (Berkeley), then earned a PhD from the University of Paris, graduating magna cum laude in 1958.
Beach has been called a statesman and the Adventist church leader best known to other church world leaders. A panelist for 25 years on the American Religious Townhall weekly telecast, and its editorial director for the past 15 years, Beach has served as president of the International Commission for the Prevention of Alcoholism and Drug Dependency (ICPA) and as vice president of the International Religious Liberty Association (IRLA).
Before he retired from the General Conference in 2005, Beach held positions including president of the Adventist Italian Training College in Florence, chair of the History Department at Columbia Union College, director of the Education Department at the General Conference, and secretary of the Northern Europe-West Africa Division. Beach also served as director of Public Affairs and Religious Liberty, general secretary of the GC Council on Inter-Church Relations, and secretary general for the International Religious Liberty Association. For 32 years, Beach also served as the secretary of the Conference of Secretaries of Christian World Communions.
Beach was awarded an honorary Doctor of Humane Letters at the 8:30 a.m. service.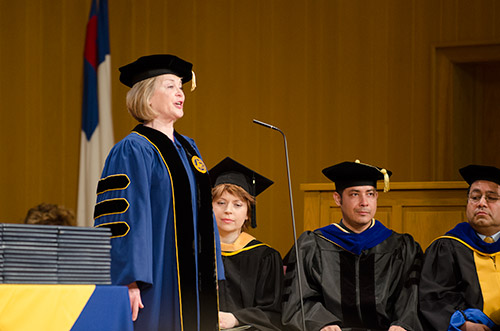 Faith Lou Esham has enjoyed a career in opera for more than 30 years. She has performed in major opera houses on the concert stage in the United States and in Europe. Esham continues to be active in all aspects of singing and currently serves as an adjunct assistant professor at Westminster Choir College in New Jersey.
Born in Kentucky, Esham graduated from Columbia Union College, now Washington Adventist University, in 1970, and then enrolled at the Julliard School of Music where she completed a master's degree, studying with noted teachers Adele Addison, Beverly Johnson, and Jennie Tourell.
She made her operatic debut in 1977 singing the role of Cherubino in The Marriage of Figaro at New York City Opera. She debuted three years later in Europe as Nedda in Nancy. In 1983 she played Micaela in a movie version of Carmen directed by Francesco Rosi with Placido Domingo playing Don Jose. In addition, Esham has appeared in major roles at the Vienna State Opera and at the Geneva Opera in 1984, leading to her Metropolitan Opera debut as Marzelline in Fidelio in December 1986. Esham has performed a number of roles in Mozart's operas, including The Marriage of Figaro over 100 times.
Esham received the Concours International de Chant in Paris in 1981 and a Grammy award in 1984 as Principal Soloist, Best Opera recording for the year. Esham is also known for her proficiency in singing in the languages associated with opera, including French, a particularly difficult one for operatic singing. She actively promotes and has performed in the work of contemporary composers.
After performing "Bist Du bei Mir (If Thou Art With Me)" at the 11 a.m. service, Esham was awarded an honorary Doctor of Fine Arts.