Ledesma Wins Award for JAE Issue
Top Headlines
Date:
June 13, 2013
Contact:
pr@andrews.edu
Website:
Phone: 269-471-3348
The Journal of Adventist Education recently won the Distinguished Achievement Award for Whole Publication Design for its theme issue "Principalship and Administration" (Oct/Nov 2012) from the Association of Educational Publishers (AEP) on June 4. Janet Ledesma, associate professor of leadership and Educational Leadership coordinator in the Andrews University Department of Leadership, guest edited and coordinated this issue.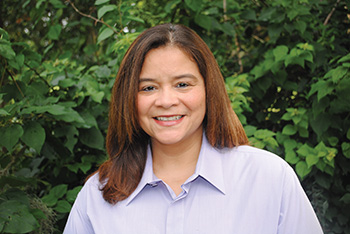 Ledesma spent most of the spring semester of 2012 assembling articles, arranging for peer review, conducting research, and doing editorial duties, including writing a guest editorial. Ledesma worked closely with Journal of Adventist Education editor Beverly Robinson-Rumble and leadership doctoral student Evelyn Savory in constructing the issue.
"I am extremely grateful for Dr. Ledesma's assistance in bringing this project to fruition," says Robinson-Rumble, "as it had been stalled for several years and I had nearly given up on ever getting the issue into print." Robinson and Ledesma submitted the issue to both the Association of Educational Publishers and the Associated Church Press.
At the 2013 AEP Awards Gala in June in Washington D.C., Robinson-Rumble accepted the award, accompanied by Lisa Beardsley-Hardy, General Conference Director of Education, and Harry Knox, JAE art director. The Journal of Adventist Education also placed as a finalist in three categories: Learned Article, Whole Publication Design, and Feature Article.
The Journal of Adventist Education has won AEP awards on multiple occasions, including Distinguished Achievement Awards for separate articles, feature articles and entire publications.
The Journal of Adventist Education, begun in 1978, is a resource for Christian K–12 teachers, university professors and administrators of all levels. The journal publishes eight issues a year, and includes practical and theoretical articles on praxis, pedagogy and integrating faith in the classroom.