New Astronomy Class This Fall
Top Headlines
Date:
August 23, 2013
Contact:
physics@andrews.edu
Website:
http://www.andrews.edu/physics
Phone: 269-471-3430
This semester Andrews University Department of Physics introduces Observational Astronomy, a one-credit evening laboratory class.
"The impetus behind the creation of this class was that there were often students who had taken a 3-credit science course for General Education credits, and were short a lab and an additional credit" explains Margarita Mattingly, chair of the Department of Physics. "This class offers both, as well as some incredible opportunities to observe our skies."
Geared to appeal to students with varied levels of experience and knowledge in astronomy, this class will teach participants how to set up and align a computer-controlled portable telescope as well as the observatory's 14-inch telescope, use a spectrometer, access online planetarium programs to view maps of the sky and locate objects of interest, and more.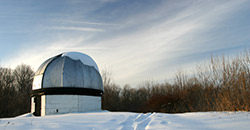 "Students will plan observation sessions noting which celestial objects will be above the horizon during that session," explains Robert Kingman, professor of physics and instructor of this course. "We'll also have access to large international telescopes and observatories online."
Students will use the Andrews observatory, various telescopes, and high-power binoculars to view the following:
Earth's moon
Planets of our solar system
Stars, star clusters, gaseous clouds, and exploded stars in the Milky Way galaxy
Galaxies near the Milky Way galaxy
"This class will develop in participants a sense of the enormous size of our universe and increased appreciation for the beauty found in the heavens," says Kingman. "Studying and teaching astronomy has given me a greater understanding of God's love for each of us, and I hope to pass that understanding on to my students."
Observational Astronomy will meet every Wednesday evening from 6:30-9:30 p.m. For more information, contact the Department of Physics at 269-471-3430 or email physics@andrews.edu.