New Student Vespers
Top Headlines
Date:
August 26, 2013
Contact:
cm@andrews.edu
Website:
www.andrews.edu/cm
Phone: 269-471-3211
Drawing new student orientation week to a close, Andrews University vespers leadership hosted the freshman vespers program in Pioneer Memorial Church. The team consisted of Andrews University Student Association (AUSA) officers, student chaplains from Campus Ministries, junior and senior class student leaders, and one of several University Vespers praise teams, with the support of José Bourget, associate chaplain.
"The returning student leadership embraced the idea that this year will be unlike any other here at Andrews University," says Jose Bourget, Andrews University chaplain. "They truly believe that God will do a new thing."
Before the service began, the team of leaders totaling about 25 had worship together, led by Kevin Wilson, AUSA religion vice president. He challenged them to think beyond programming excellence to a Holy Spirit-infused experience where people's lives can be changed.
During the service they called the freshmen class to invite God to be the Creator of new beginnings, to shout out and proclaim His name, to be a spark of prayer on campus.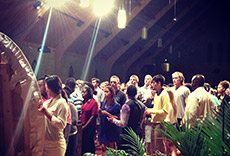 "It was the first fruits of God doing a new thing," says Bourget. "Pastor Dwight [Nelson, senior pastor of Pioneer Memorial Church] felt led by the Spirit to make an unplanned appeal, and over 50 students joined him at the front of the church."
After passing out decision cards, the leaders collected 48 completed cards, among which were six baptism requests, seven Bible study requests, one request to join the Adventist church, and dozens more wanting to recommit their lives.
The cards were divided between student chaplains, AUSA members, and a couple other highly committed students with the promise of contacting the people whose names were on the cards within 48 hours. Additionally, hundreds more came to the platform to sign their name on the circle hanging above the pulpit, as a symbol of their commitment to exercise moral leadership on the Andrews campus.
"One young lady leaving for a public university in just over a week came to Pastor Dwight in tears following the service," recalls Bourget. "She wants to be baptized before she leaves, as she has never taken that step. There are plans in place to make that happen."
Two freshmen who plan to join an Andrews sports team said they want Bible study and prayer to be a big part of their team experience.
"They said when that core is strong, they envision the team going out across campus doing that same thing within their circles of influence," explains Bourget.
As a result of this inspiring start to the school year, Bourget suggests we should be prepared for the Enemy to work harder than ever to discourage those on campus who would shine the Light for others.
"I invite you to continue to pray hard that God will pour out His Spirit in a mightier way than ever before," he says. "It appears He's already started, but please also pray for courage and well-being for our campus family this year."
"The Holy Spirit was definitely moving amongst and through the people during that vespers," says Kevin Wilson, AUSA religion VP. "I fully believe that God did and will continue to do a new thing for this campus through University Vespers and many other means."
For more information about spiritual events and groups on campus, visit andrews.edu/cm.