Students Building Tesla Coil
Top Headlines
Date:
August 22, 2013
Contact:
pr@andrews.edu
Website:
Phone: 269-471-3348
What goes on at Andrews University during the summer? In the Department of Physics, students and faculty create and construct a six-foot Tesla coil.
"In laymen's terms, a Tesla coil is a lightning generator," explains Brendan Cross, instructor of physics at Andrews. "In even simpler terms, it makes big sparks."
In more technical terms, a Tesla coil is a resonant transformer circuit used to produce high-voltage, low-current, high frequency alternating-current electricity. The device is named after Nikola Tesla, a Serbian inventor, engineer, and physicist who invented the coil around 1891.
Though the coil is being built in the department labs, it will, for obvious reasons, be moved outside to be used. Under Cross' careful supervision, three students have been involved with putting the coil together: physics majors Samantha Easton and Mateja Plantak, and engineering major Robert Polski.
And why are they building it?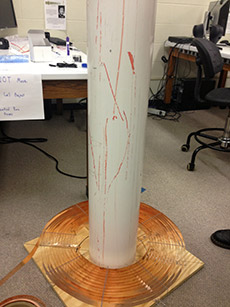 "Why not?" replies Cross. "We're always looking for cool ways to demonstrate how science works. We already have a large parabolic mirror, a giant vortex cannon, a trebuchet and a quantum locking track; we go big here."
The department's coil will be six feet tall when finished, and will emit sparks within around a 26-foot diameter. It will be used for class demonstrations and an aid to learning for both college and on-campus high school students.
While there is some danger of damage or injury, Cross and the students are taking no chances and safety procedures are in place for when the coil is in use. They intend to build a Faraday cage to complement the Tesla coil once it is completed.
Named for English scientist Michael Faraday, a Faraday cage is an enclosure that blocks external electric fields. It works by using an external static electrical field that causes the electric charges within the cage's conducting material to be distributed such that they cancel the field's effect in the cage's interior. Faraday cages are often used to protect electronic equipment from lightning strikes and electrostatic discharges.
"We do have a lot of fun toys in this department," says Magarita Mattingly, department chair, "and we need them so students can go hands-on and figure out and understand how things work. And the toys we have always change because once we figure it all out we move on to the next fun thing. Whoever said learning can't be fun?"
Cross and the students plan to have the coil completed by mid-November; any public opportunity to watch the device in action will be announced as information becomes available.