Depression Awareness Day
Top Headlines
Date:
October 30, 2013
Contact:
stclair@andrews.edu
Website:
Phone: 269-471-3348
By Eloise Ravell

On Oct. 10, 2013, the Andrews University Psychology Club, PSI CHI, and the Andrews University Counseling & Testing Center held an event for National Depression Screening Day and Mental Health Awareness Week. The purpose of the event was to raise awareness about depression on campus, to build a community of open conversations that allows students to know that there is help available and to create a support system in which students are encouraged and lifted up in their struggles.
Because PSI CHI's goals of promoting well-being and developing self-awareness of mental health matched those of the Counseling & Testing Center, they teamed up to make the event bigger and better than it has been in past years. Volunteers came from both of these organizations as well as from Counseling Outreach Peer Education (COPE).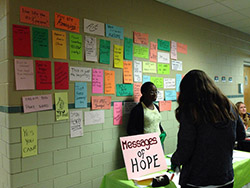 "I think the event was very successful," says Eliana Iller, president of PSI CHI and senior psychology and Spanish for translation double major at Andrews, who coordinated the event. "We had a great group of volunteers and a really strong turnout of students. I was pleased with how many students got involved and supported our cause."
Several different stations around the Student Center, both inside and outside, allowed students the opportunity to interact with sponsoring groups. First greeted by volunteers offering free hugs and inviting people to participate in the event, students next visited a station to decorate their own T-shirt with encouraging messages. On a section of grass nearby, students could place a small black flag in the ground to represent someone they knew who had committed suicide. Sidewalk chalk allowed them to write or draw something encouraging outside the building. The final station outside was "Prayer Warriors" where students could write down their prayer requests or anything that they happened to be struggling with and pray with a volunteer.
"The prayer request slips were burned at the end of the event as a symbol of giving those troubles to God," explains Iller.
Inside, the students had the opportunity to take a free depression screening test and were given feedback on their results by staff and encouraged to talk to a counselor if needed. The station "Messages of Hope" gave students a chance to write encouraging messages and thoughts on sheets of brightly colored paper and tape them to a wall in the Student Center. There were also pamphlets and posters around the booths to promote depression awareness and mental well-being.
"It was great to see everyone come together and encourage one another," says Iller. "I would definitely say that we reached our goal for this event and we are looking forward to making our upcoming events even bigger."
To see what Andrews students are saying about mental health, click here to watch a short video.

Photo: Students write messages of hope for depression awareness day.